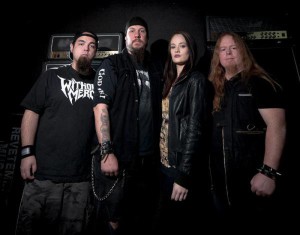 Melodic Death/Thrash quartet DEAD ASYLUM will release sophomore album Death Always Wins on June 2. On the follow-up to 2013 debut General Carnage, the Vancouver, Canada band has sharpened the songwriting to a fine point and bolstered its established muscular attack with a harder rhythmic punch and an even deadlier arsenal of riffs! The title track is the embodiment of that sound and has just been released as the album's first single.
With an unexpected combination of thrash and melodeath elements reminiscent of the Gothenburg Sound (AT THE GATES, ARCH ENEMY, et al), DEAD ASYLUM's Death Always Wins is one killer listen! The songs on Death Always Wins range from thrashy headbangers, to technical compositions, and chantable, heavy metal anthems. While it might seem like their sound covers the spectrum of metal, everything is tied together by brutal dual vocals and melodic leads. Lyrical themes include revolution and political uprising, the apocalypse, and-as the band name alludes-twisted facets of the human psyche. The band's famously intense live shows are about to get fiercer when the new material is left beaten and bloodied on the stage!
Death Always Wins was tracked at Jam Factory Studios in Port Coquitlam, BC; recorded and edited by Roger Mowat; and mix/mastered by Chris Holmes. Pierre-Alain (3mmi Design) was responsible for the album art.
Drummer Samantha Landa in many ways defines DEAD ASYLUM's unbridled energy and inability to ever just stand still. Landa performed with Brazilian Thrashers and Napalm Records artist NERVOSA for three months throughout North America and Europe in 2016, including on a tour package that also featured DESTRUCTION, FLOTSAM & JETSAM, and ENFORCER. And all the while ran her online business from the road!