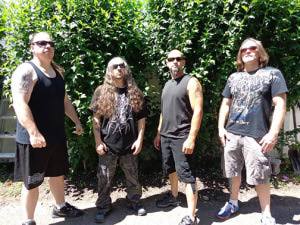 NYDM unit DAY OF DOOM have announced the addition of former Corpsicle and Sanguinary Carnage guitarist, Michael Fairlie to their ranks. Fairlie is said to bring an added dose of old school death metal/grindcore flavor to the band's molten musical mix of apocalyptic terror.
The new DAY OF DOOM lineup: Rich Hervey – Drums Vocals, Doug Randazzo – Guitar/Vocals, Sam Lara – Bass/Vocals, Michael Fairlie – Guitar
Earlier this year, Lavadome Productions released the band's third full-length, The Gates of Hell on digital and CD formats. The album represents the raw, sickening, and undeniable brutality of early New York Death Metal, sending the listener back to a time when every new album sounded fresh and exciting; the sole aim to create music that delivered a punch to the face and a kick in the gut. That's the sound of The Gates Of Hell, a stab of bludgeoning, uncompromising force played with skill and passion. The cover art was conceived by the mighty Raul Gonzales.
The album is available at the following links:
http://store.lavadome.org/advanced_search_result.php?keywords=day+of+doom