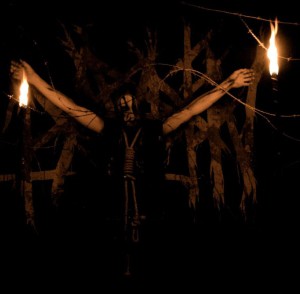 In the year 2007 the band starts. From that year the band have been making music and lyrics based on their dark sides. The words is performed both on Norwegian and English combined with the disharmonic sound.
In 2008 the band made their first demo: Byllepesten. With 6 tracks dedicated to the black plauge.
In 2011 they did a EP-CD (Re-released in 2013, with a new artwork). With songs like: Goatblessed, Forbannet Til Evig Jord, Foraktelse. 4 tracks with a more aggressive and speed up sound. In 2012 and 2013 the band worked on their debut full-length album, and in desember 2013 Dauden entered Endarker Studio in Sweden to mix and master the album. The album was released 30.09.15. Only on vinyl 12".
Dicographi:
Byllepesten
Dauden EP
My Soul Will Be Damned Forever- Full-length
Most appreciable concerts:
Hellion Pub- Evangeliesenter (Stavanger)
Kroa i Bø (Bø),
Hammerslag Festival 2012 (Total, Tønsberg
Hub & Heuy Metallfest PT. VIII (Azijnfabriek,Nederland)
Dark Mental Festival 2013
Kreater Festivalen 2014
Dauden have done concerts with bands like: THRONE OF KATARSIS, RAGNAROK, TAAKE, GEHENNA, ARVAS, NOCTURNAL BREED, GLITTERTIND.
Over the years with Dauden, members have been replaced. Some shows have been done around in Norway and abroad with both bad and good PR. DAUDEN will keep strong and walk their own path.