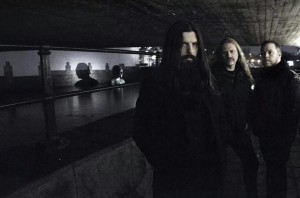 DARK started their journey into the abyss of goth rock. With great experience from the scene, and songwriting talents given by the demons, the material practically wrote itself. Lyrics based on occult experiences, the struggle of life and twisted by the pitch black minds of the members.
DARK consists of ex-members from the gothic metal band BESEECH (1992-present), hard rock band THE MARY MAJOR (2006-2013) and death metal band SKINEATER (2008-2014).
The members have great experience on stage and fans have been waiting for this return to the goth rock-/metal-stage.
Line-up:
Erik Molarin – Vocals and guitar
Jonas Strömberg – Lead guitar
Jörgen Ström – Bass
DARK stated:
"We are happy to announce that we've signed with the label WormHoleDeath. Not only did we sign because we wanted to release our upcoming album, and get great distribution. We also like the people at WHD and their thoughts on animal rights and the music industry in general. Stay tuned for more news about the upcoming album."
WORM stated:
"I really like these guys, they have such a long term experience and their music is just awesome and emotional. Their album is something that I could buy for myself as a fan. When they got in touch with me I thought that this was going to be a great opportunity for our label. I really love their record and I am absolutely proud to release it under my label. Serious musicians deserve real support"
Tracklist:
1. Distance
2. Eternity
3. Dark World
4. Sleepless in Sao Paulo
5. Incomplete and medicated
6. Caged
7. Gold
8. Apart
9. Kval
10. The end of the word
11. Sarol's song
http://www.facebook.com/wormholedeath