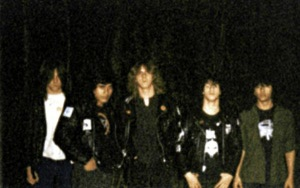 Shadow Kingdom Records has announced the upcoming release of a CD's worth of demo and rehearsal material from obscure 80s Death Metal group TERMINAL DEATH on. A vinyl LP version will also be released in tandem with Hells Headbangers Records. Based on the material, the Chicago band should have gotten high praise across the globe, but fell through the cracks without a proper record label deal. That all changes now, as fans of early SEPULTURA, DEATH, and POSSESSED are in for a real treat. In addition to the remastered material, a nicely assembled CD booklet includes a detailed interview from Laurent of Snakepit Magazine.
Shadow Kingdom Records owner Tim McGrogan shared these words about the release.
"When you talk about the earliest Death Metal bands, we think of SEPULTURA, DEATH, POSSESSED (all stemming from VENOM) right off the top, but there were a few ripping bands that quickly fell into obscurity and TERMINAL DEATH is one of those bands. This is not just an obscure band; they could have been a HUGE Death Metal band if they were signed to the right label back then. They certainly had all of the talent of the aforementioned bands. Their 1985 Demo tape screams with energy and intensity! This collection is another snapshot of that amazing early Slayer-esque Death Metal. Co-founder Shaun Glass, whom also co-founded SINDROME, later joined the more well-known classic Death Metal band BROKEN HOPE in the early 1990's. Shadow Kingdom Records also teamed up with Hells Headbangers Records to release this lost gem as a Double LP. If you're into vinyl, keep your eyes peeled for it will be a glorified presentation."
Get in touch at clawhammerpr@gmail.com with your coverage plans.
Terminal Death – Terminal Death
Demo 1985
1. Terminal Death
2. Judge Death
3. The Day After the End
4. Brain Tumor
5. Celestial Execution
6. Hacksaw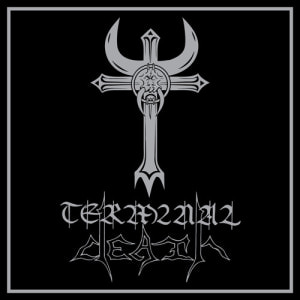 Rehearsal
December, 11 1985
7. Terminal Death/Judge Death
8. Brain Tumor
9. Celestial Execution
10. Intermission
11. Hacksaw
12. The Day After the End
13. Chained to the Abyss [Unreleased]
14. Dying in the War [Unreleased]
Rehearsal
April 19, 1986
15. Terminal Death/Judge Death
16. Brain Tumor
17. Bloody Retribution [Unreleased]
18. Hacksaw
19. The Day After the End
20. Chained to the Abyss