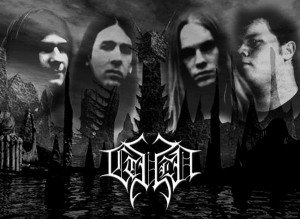 CTULU was formed in 2004 by Mathias Junge and ex-member Stefan Schulz. The band has gone through various line-up changes over the years and it is ex-members Jan Westermann (Diablery, Released Anger) on drums and Rolf Quast-Janßen (Lunar Eclipse) on vocal duties along with current guitarists/vocalists Arne Uekert and Mathias Junge whose work is found on Sarkomand. Despite its line-up changes, CTULU has never given up and has put their original "Seastorming Extreme Metal" on the map of heavy metal.
With their experience of live performances – including a tour with Taake, Ragnarök Festival (DE), INFERNAL DAMNATION UK) and various shows outside their homeland – the band is stronger than ever. With the addition of Roman Szymura (AEBA) on drums and Lasse Bodenstein on bass, the Germans now have a powerful member line-up and are ready to conquer the world.
New record:
CTULU extreme metal will now be available for record collectors for the first time ever. Having sold out their 2011 full-length release, Sarkomand,and just in time for their tenth anniversary celebrations, Northern German metal act CTULU are pressing their Lovecraft-inspired themes and melodies on black 12" vinyl. It is scheduled to be released via Black Blood Records and Human To Dust on 5th December 2014. The sold out CD was received very warmly by the band's fans and now that it is back on sale it is a must have for every extreme metal connoisseur.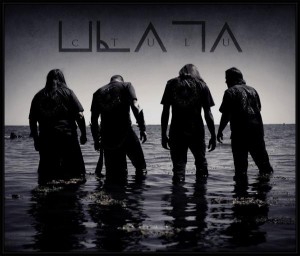 While heavily indebted to the Scandinavian school of extreme metal, there is more to CTULU and SARKOMAND. From the opening blast-beat fiasco of "Arckanum der Tiefen" and title-track "Sarkomand", through the night-time story of "Nachtwind", the chaotic "Blindes Chaos" and the powerfully atmospheric "Mondsucht", CTULU demonstrate how a band can bring variety to the table and yet not stray away too far from their roots. With the music's themes, German lyrics and imagery deeply based on the stories of H.P. Lovecraft, CTULU create not only "Seastorming Extreme Metal" but black metal poetry.
CTULU discography:
Zins der Zeit (Demo 2005)
Freie Geister (Demo 2006)
Freie Geister (Full-length 2008)
Sarkomand (Full-length 2011)
Seelenspiegelsplitter (Full-length 2013)
Sarkomand (Vinyl 2014)
CTULU line-up:
Mathias Junge – Guitar, Vocals
Arne Uekert – Guitar, Vocals
Lasse Bodenstein – Bass
Roman Szymura – Drums