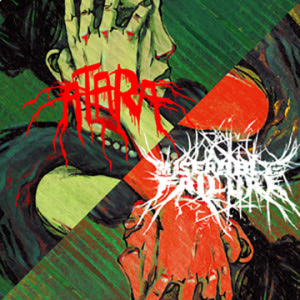 Metal webzine Crown of Viserys has given exclusive worldwide premiere to two tracks off of Hang Them, the forthcoming split from French grindcore acts ATARA and MISERABLE FAILURE.
Hang Them is set for an August 12 release on limited edition CD and digital formats via Kaotoxin Records. The CD is strictly limited to 1,000 copies (no repress). Limited edition cassette versions of each band's contribution will released by Wooaaargh Records under official and exclusive Kaotoxin Records license.
Punk and Grindcore are known for socio-political lyrics and concepts and the desire for a more equal society, but to achieve this dream these two French acts are taking that first step; one that blasts the message to dictatorships and corrupt "democracies" the world over. The message? HANG THEM!
Already known for their crushing yet groovy brand of Grindcore, ATARA are back with six new tracks that move towards a darker approach, even blending a bit of black metal riffing into the mix at times. MISERABLE FAILURE return with eight new tracks showcasing a nihilistic and apocalyptic mixture of many different influences, not the least of which hardcore and black metal. Definitely NOT your usual Grindcore release, Hang Them is the noose that'll suffocate your dry throat in an auto-erotic maelstrom of hatesphyxiation!
Stream select tracks from Hang Them at http://listen.kaotoxin.com/album/hang-them.
Pre-order Hang Them at shop.kaotoxin.com.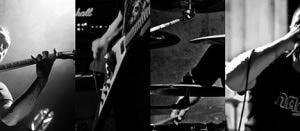 1. ATARA – Pedro
2. ATARA – Hang them
3. ATARA – Victims
4. ATARA – Burden
5. ATARA – Gelateen
6. ATARA – One Minute Left
7. MISERABLE FAILURE – I Miss You
8. MISERABLE FAILURE – Unus et solus mihi es
9. MISERABLE FAILURE – 6931 45 7325
10. MISERABLE FAILURE – Crevez tous
11. MISERABLE FAILURE – Hang them
12. MISERABLE FAILURE – Obituaries
13. MISERABLE FAILURE – Pink coffin
14. MISERABLE FAILURE – May you all be Cursed Forever
ATARA
Fred Palard – vocals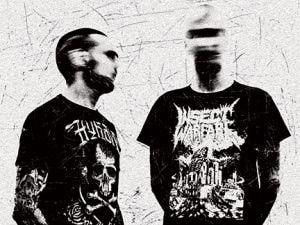 Hugo Champion – guitars / backing vocals
Benoit Santa-Cruz – bass / backing vocals
Antoine Giraudeau – drums
https://www.facebook.com/atara.grindcore

MISERABLE FAILURE
Bleu – vocals
Rom "Maldito" Sanchez – guitars / backing vocals
Mélanie Sugin – bass
Elvis Jagger Abdul Jabbar – drums
https://www.facebook.com/msrblflr
http://crownofviserys.wordpress.com/2014/07/24/crown-of-viserys-exclusively-streaming-tracks-from-atara-and-miserable-failure/