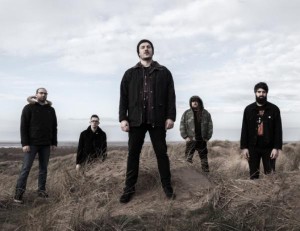 CORRUPT MORAL ALTAR formed in 2012 in the barren seaside town of Southport in the UK, bonded together by a shared love for fast music and heavy drinking. Eunoia is their latest musical offering – an unrelenting and intense collection of songs – which will be released on vinyl on March 9, 2018.
In direct contradiction to the album's contents, Eunoia means "beautiful thinking" or "well mind", neither of which are the natural descriptors for the creators of these thirteen fast and filthy tracks. The album can politely be described as a collection of intense, introspective, deeply personal – and sometimes political – diary entries; a fair representation of how CORRUPT MORAL ALTAR see the world around them.
The five musicians responsible for this audio warfare have left their fingerprints over much of the fast and/or heavy music originating out of the North-West of England (and occasionally further afield) for many years now. To have past/present members of NARCOSIS, THE ERGON CAROUSEL, NAPALM DEATH, VENOMOUS CONCEPT, HORSE BASTARD, MAGPYES and others says more about the depths of sonic depravity that they're capable of, more so than as a claim to fame. The fetid cherry on the fucked up cake is the production abilities of CORRUPT MORAL ALTAR drummer, Tom Dring; as well as taking the reigns on this recording, he has been behind the desk for the likes of Venom Prison, Dragged Into Sunlight, and Dawn Ray'd – even roping the latter's Simon B in to perform violin on album closer, Five Years.
Having released the album on a "pay what you want" basis via Bandcamp towards the end of 2017, the overwhelming response has led to the band opting to release Eunoia physically too. The record is being pressed on 180g black vinyl, with matte finish inner and outer sleeves, plus a gloss A4 print of a recent shirt design. Pre-orders are currently being taken HERE – where you can also download the album digitally for whatever price you like, including sweet eff-all.