COLUMBARIUM is a heavy Doom combo from Belgium. Their voices says: "A great combi between brutal and miserable!"
Interview: Pete 'Jules' V – Vocals, Bass
Hello! To start the interview, I would like to understand the creation of COLUMBARIUM. How long did it take to make basic of first line-up?
Around 2010 our drummer Mille was in a local bikers club and they decided to play some hard rock and metal covers at a party of the club. Mille hadn't played in over ten years, but that was really the beginning of the band, it was far from what COLUMBARIUM is today, but that was the seed that was planted. Marc, our guitar player was already joining back then, he was also in that bikers club. After those covers they decided to start making their own songs and asked me to join on bass as Mille and myself had been in a band called ARACHNAPHOBIA back in the nineties, also being personal friends for over like 35 years. I then joined in around 2011, 2012 or so. The band transformed around 2015, 2016 when the original singer got sacked and I decided to combine the bass with the main vocals and Koen joined on guitars and keyboards in 2016. In the years after the band got shaped with this permanent lineup, with the infusion of Koens guitar – and keyboardplaying and with that drastycal change we changed the bandname to COLUMBARIUM in 2021. So everything that happened from 2010 to 2021 was like a slow preparation to what the band now is today.
What triggered comeback of COLUMBARIUM and when you started planning for this? This is also your first full length since 1997, can you tell us a little bit more about what was going on during that long time span?
So, indeed, I was in a band with Mille our drummer in the nineties, first in ARACHNOPHOBIA as told and after the passing of our guitar player Franky in 1994, we continued as COLUMBARIUM. It was just to two of us, Mille and myself at that time. He was playing the drums and also did some backing vocals occasionally. I was playing the bass and did the main vocals, we were playing a combination of doom metal and grindcore. I used a metal distortion pedal to make my bass sound somewhere in between a bass and a guitar. After about four years our inspiration dried and a lot changed in my personal life too. I got married and had three children in less then two years, so things changed. I didn't pick up the bass for a very long time then, over ten years, it must have been twelve years in total. Until Mille asked me to join his 'motorcycle' band in 2011. That's when it al started again for me. We laid the roots of what was going to be the COLUMBARIUM we are today.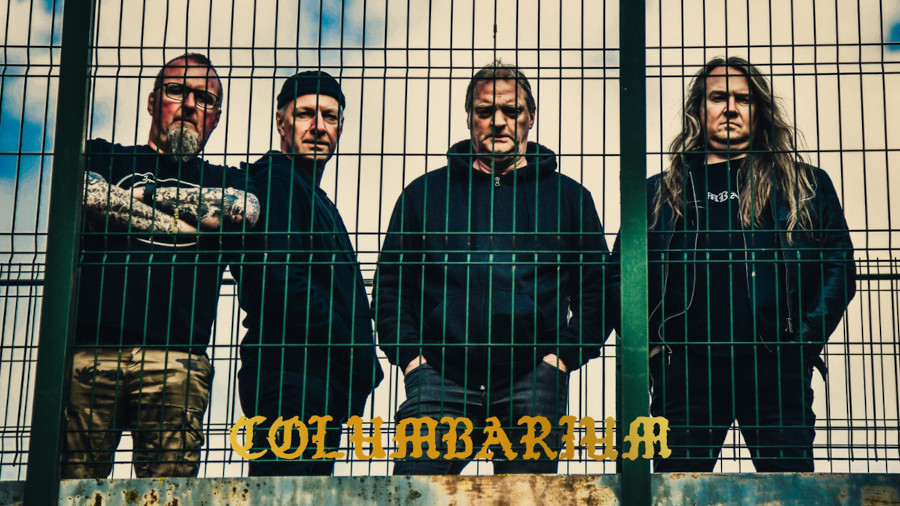 Can you please explain us the meaning of your band's name COLUMBARIUM? Where does it come from?
The name 'Columbarium' has a history that is very important to us. A columbarium is an urnwall in a cemetery, that is the literal meaning and it fits the atmosphere of the band perfectly. I already played in a band with Mille (our drummer) in the 90s under the name COLUMBARIUM, that was after ARACHNOPHOBIA, as I just explained. We never really released anything except an unofficial live demo and I also have a T-shirt from that era. That project lasted from 1994 to sometime 1997/1998. I don't know if the name ANESTHESY rings a bell, but it was a Belgian thrash band in the 90s, who released a few really great albums. Mille and I had been roadies for that band since the mid-80s. The main composer was Franky Libeert, we went to the pub with him almost every weekend after rehearsal, so he was one of our very best friends. At that time we played with Franky and the bass player of ANESTHESY in ARACHNOPHOBIA, which was then a side project to ANESTHESY, with which we occasionally did support for ANESTHESY.However, Franky died in a car accident in 1994. When Franky passed away, ARACHNOPHOBIA also ceased to exist. We went to his grave at his funeral, with friends and his family. At one point we passed a 'Columbarium' sign in the cemetery where Mille said to me: "That would be a good name for our band if we'd continue with just the two of us." Subsequently, Mille and I decided to continue under the name COLUMBARIUM, mainly as an ode to our deceased friend. And so we actually just took that name back out of the fridge in 2021. So that's the full story about the name COLUMBARIUM, it is and still will always be very emotional to us.
Do you have any favorite songs from the old records you have done?
Well, in fact, that is a really good question. We have two songs that we still play live from the era before we even were COLUMBARIUM, many years before. One of the songs is a faster track, somewhat BOLT THROWER-like. That song has never been recorded on an album, but we still play it live because we like it that much. The other song is a straight-in-your-face doomtrack with very basic riffing and really heavy vocals to which I add a lot of effect live. The song has been on an a record we have done before, but I won't tell the titles yet, haha! We have "Columbarium-ized" the latter song, changed it a bit, but it is still very much what it was before. It was originally recorded an released before our guitar player Koen joined the band, so now with Koen in the band, he added some of his signature into that song. We might want to record these two songs in the future together with some new stuff we are still writing, who knows, haha!!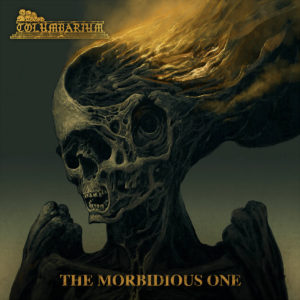 Are any of the band members involved with any other musical projects these days?
No, we focus entirely on COLUMBARIUM. Koen has been playing for fourteen years in an instrumental metal band called LOCUS CONTROL, which is really very good and still exists, but he left that band in the beginning of the year to fully focus on COLUMBARIUM. None of the other members are playing in another band today.
And now… please, can you introduce your new album "The Morbidious One"? Can you describe the writing and recording process of it? Has it been a challenging task creating this album? By looking back, are you satisfied with the result?
Creating music was not the problem. All four of us have been musicians for a long time, it's in our blood and we want to make music, it is simply inside us and all four of us feel the need to bring that out. That's what musicians feel, I think, you feel an urge to create, grab a guitar and play. The challenges, that's another pair of sleeves. It happens that we finish a song quite quickly, but that doesn't happen often. Sometimes it takes a very long time, which can sometimes be more than a year in an extreme case. It happens that we have a song for 80% ready, but we just don't find those last few things to finish it off completely. If we like the song, we'll keep trying and jamming until we find what is needed. Fortunately, we are no longer teenagers and if someone brings a new riff eg. to the rehearsal room, even if he does it with the utmost conviction and with all his heart, but the rest don't like it, we can say that to each other, without resentment. That in itself is a matter of respect and trust in each other. But we've known each other long enough to be able to do that. The song should always represent the band an not the individual and the result, a finished song, should always be greater than the sum of the musician's individual qualities. That's what makes it so much fun, of course, if you feel it that way when a new song is finished. So, creating music didn't always run smoothly, but it pays off in the end.
Fortunately, it is not always the case that it takes us very long to make a song. In the studio I think we faced the same challenges as all bands. That ultimate band sound that you have in your head, to get it out together with the producer. It's about the recordings, the mix, production, individual sound of the instruments, etc. It's about setting up the microphones, pre-production, testing, retrying, tuning, the end result after mastering… The danger is always that a record is going to be overproduced and that is something we consciously don't want, although we always record everything with a click track, but the result should not be clinical with COLUMBARIUM, I hate that … So there are some challenges, yes , some things you might want to do a little differently in retrospect, that must be a process, I suppose. So, we already have some ideas to approach this whole process a bit differently with a next recording… evolving, that's what they call it, I think … And yes, we are satisfied with the result. The reviews have been really awesome up to even almost incredible sometimes, we didn't expect that, not in the longest run. But of course we are incredibly happy and thankful with the way the album has been received.
Do you have a favorite track off the new album? Or is there one that really stands out? And if so, why?
That question is hard to answer. We felt that "Eyes Bleed Black" was one of the songs on the album that best represented our style and who we are. That's why we opened the album with that song and that's why we made a videoclip for it. But we felt really good with "Rivers Of Blood" too, that's why it was the title of the single that we released first as an independent band with a lyric video in December 2021. Later in May 2022 it was released on tape and digital through Dust & Bones Records and we felt the song was strong enough to also keep it on our full album. But after reading different reviews we are really happy that people chose different songs on the album to be their favorite. For some "Eyes Bleed Black" is their favorite, for other it is "Rivers Of Blood", but we have also read reviews where journalists prefer "The Morbidious One" or even the instrumental song "A Cure For Everything/Get Back Alive?", so it is really nice that people think of different songs to be the best on the album, we believe.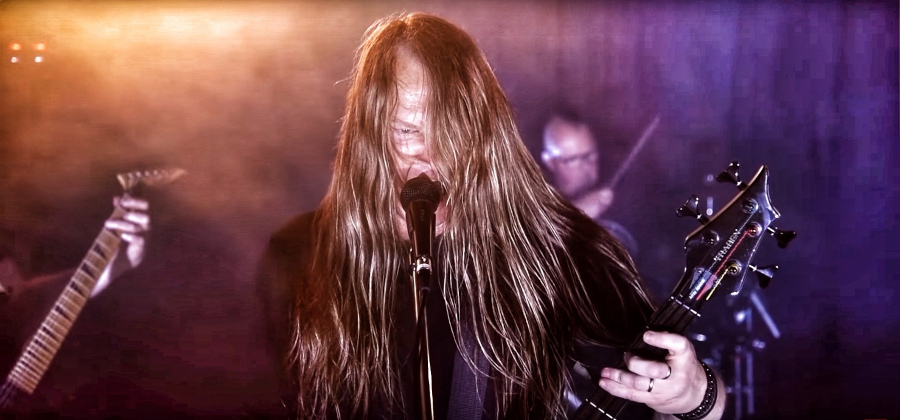 Your music is powerful and deeply melancholic. Are your lyrics based on your lifestyle? Are you melancholic persons?
Thank you, man. As a singer I provide all the lyrics for the band. I hardly write anything intentionally, I noticed over time that important emotions and feelings come to my mind when I sit down at the writing table. For example, I only noticed later that many songs on our album are about death, without it being a real concept album. Apparently I use my lyrics as a kind of going through a process helping me to emotionally get over things, without really wanting it myself, I only noticed that later. "Redemption" is about my mother's death and how I experienced those last days at her bedside, that was very intense, "Eyes Bleed Black" is an ode to a good friend of ours that passed away way too soon and the title track "The Morbidious One" is about death as a god who is positively and respectfully honored by a tribe to hopefully ensure a smooth transition to the afterlife of a deceased person. So, yes, I guess you can call me melancholic… I drape with feelings from inside me. Death therefore often returns in the lyrics and the album title and cover also refer to it. "The Morbidious One is "Death" portrayed by Vladimir Chebakov who drew the cover for us. He is a phenomenal artist who has also done covers for Sodom and Hideous Divinity, among others. We are very happy with that artwork. Furthermore "Rivers Of Blood" is an exception to that lyrical concept. That song is about hard addiction. When something has touched me really deeply it is something considered worth thinking about for a song lyric.
You come from West Flanders, can you tell us about the local music scene?
I believe it is really good. We are a small country but have a very vivid metal scene with a lot of local bands, also in doom metal and all its varieties. Ranging from post-metal to heavy doom, classical doom, sludge, stoner etc. Even some international acts like AMENRA, COWBOY & ALIENS, HEMELBESTORMER… but we have a lot of good friends in bands like GROWING HORNS (you should check them out, they are really great!), MARCHE FUNÉBRE, SPLENDIDULA, DARGO, WELCOME TO HOLYLAND, ANAMNESIS and so many more. The scene nowadays is bursting with gigs, which is still like a post-corona thing and all the bands have great respect for each other. At least, that's how I feel it. So yes, we are not alone out there, haha. It is always nice to meet the people in other bands at festivals or gigs, or play together, have a beer together and chat about things.
How to feel about the current state of the world? Are bad things, crises, tragedies… "important" for your inspiration?
Not really. Not that much. As explained I merely write about things that have touched me deeply, mostly in my personal life. Yeah, the world is fucked!, but what's new, haha?!? We have finished one new song completely, it's called 'Longing And Regret' and we already play it live too. The lyrics are about transmigrants that try to cross the Mediterranean in a rickety boat, but they get killed in open sea, so you could say that is inspired by the tragedies of this world, yes, but that doesn't happen too often in our lyrics.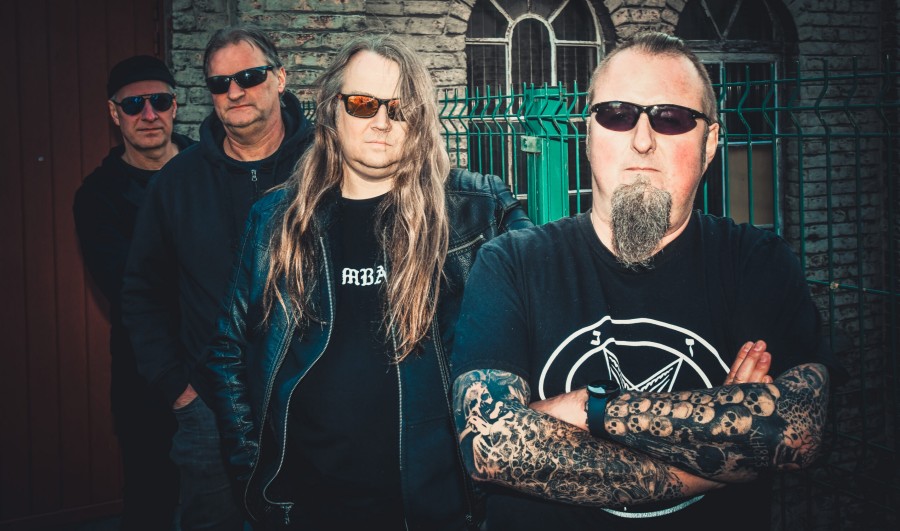 Have you noticed an increase in people interested "old school" doom metal in the last few years? Why do you think this is happening?
Hoh, there has always been old school doom metal since the beginning of the nineties, only it was not yet old school back then, I guess, hahaha! I am not sure whether old school doom is more popular now than some or many years ago… In the last few decades we've had always incredible new bands ongoing like SEVENCHURCH, REVELATION, THE ORDER OF ISRAFEL, BATHSHEBA, lasting long or not… unfortunately many of these bands only lasted for one or two albums, but they have immensely contributed to the scene with incredibly great albums in my opinion. I doubt that doom in all its beautiful variants will ever be so called "popular", it'll never get to mainstream anyways. You have to be a fan, you have to get the vibe. Not sure to be honest that it is more accepted than before now …
Can you tell me something about music taste of young people in Belgium? Is metal scene about underground only?
Tomorrowland is said to be the largest festival in the world. However, that is a dance festival and has nothing to do with metal, over several weekends it attracts about half a million people and that grand version still takes place in Belgium, which says something about the music taste of our youth, I'm afraid… Especially young people, but that's a different story. On the other hand, it is also encouraging that at metal festivals such as Alcatraz, which attracts approximately 45,000 visitors over three days and Graspop, which attracts 220,000 visitors over several days, there are also a lot of young people present. You can't deny that the metal scene is still alive in our country, I think. We even notice ourselves, and we are no longer the youngest, that among our fans there are also many people in their twenties, which is very hopeful, I believe. So I do believe that there is still hope for our youth, haha! If you look at Graspop festival for example you can tell that metal is not underground only for sure.
What are the bands that influenced you to play doom metal? I would like to know also your favorites records.
Mille and myself are influenced mostly by death metal, grindcore and some heavy doom bands, but also the older raw stuff like old VENOM, BULLDOZER etc… That is where the heaviness and the raw vocals come from. So, Mille and I have lived the more aggressive stuff, but there has always been doom metal in our lives too. For Mille, some of his favorite albums are METALLICA's "Kill 'Em All", NAPALM DEATH's "Scum" and "Wild Catz" from Tygers Of Pan Tang. My personal fav' albums of all time are CARCASS's – "Symphonies Of Sickness", CATHEDRAL's "Forest Of Equilibrium" and AUTOPSY's "Severed Survival", so it's not all doom for sure. But that's also why you hear a mix of different styles in our music.
Marc is somewhat ten years older than us and he is more influenced by classical bands like mainly BLACK SABBATH, but also some later seventies hard rock, so that's undisputedly where some of our riffing originates from, yes, haha, you will hear some BLACK SABBATH-type riffing here and there. I have asked the guys about their favorite albums of all time and there might be some surprises in their. Amongst Marc favorite records of all time are "Moving Pictures" from RUSH, "Volume 4" (BLACK SABBATH) and 'What's Next' from Frank Marino & Mahogany RUSH), if you have ever heard about that album or band even… Koen also has a great history of listening to hard rock, heavy metal like Rush, and more modern complexer bands like MASTODON and GOJIRA. Some of Koens favorite albums of all time are RUSH's 2112, which is from 1976 already, but it still is an incredible milestone for metal indeed, but also METALLICA's "Master Of Puppets" and "Dirt" from ALICE IN CHAINS…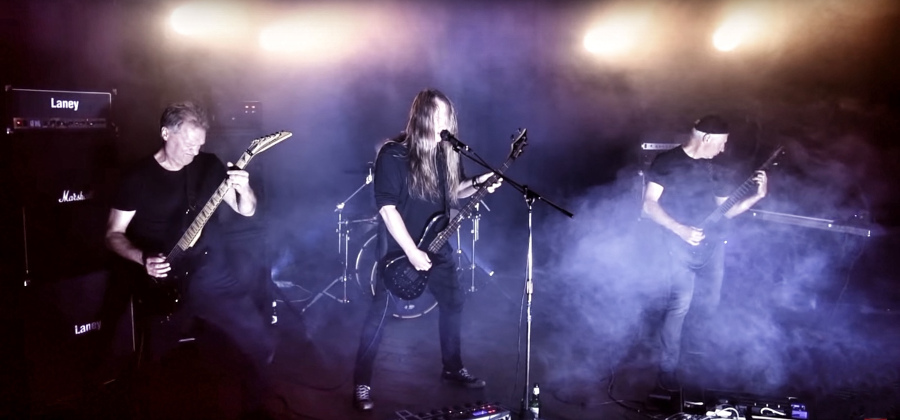 So, that is the combination that you hear in the music of COLUMBARIUM. Heavy riffing, raw vocals pimped with guitar harmonies, melodic keyboards and guitar solos, heavy passages like almost OBITUARY-like but then with added mellow parts, slow guitar solos and keyboards … COLUMBARIUM could not be the band it is today with all these different influences from every band member. So, it's definitely not only doom metal bands that have influenced us.
Is there anything that I have not touched on, or anything that you would like to convey about the release of the new album?
I can only say that we are very happy with Argonauta Records. They picked us up and released our record. They have given us a huge amount of exposure thanks to our deal with their promo agency Grand Sounds Promotion. At Argonauta Records, the vinyl version of our album is already sold out after one month, but the record is also distributed through PIAS distribution in Europe and the US and of course you can also contact us for vinyl and CDs. We've reached countries we never even thought about and it's still going on. We are incredibly grateful for all the reactions we receive, we never thought that our record would generate so many good reactions in the press, especially from magazines or webzines. The responses are truly overwhelming for us and we are extremely grateful for that. We really want to thank everyone who has already supported us, purchased our music or attended our concerts… it has opened up new opportunities for us. We are working on a lot of shows, we want to play as many as possible in the coming year.
Have you heard any Czech metal bands and if yes, which ones. What were your impressions?
I love the scene in the Czech Republic! I am a frequent visitor of Obscene Extreme Festival since many years, together with our drummer Miller and some friends, so we have seen a lot of Czech bands. Since a few years my son is also joining us. It is an incredible experience every time. The atmosphere is crazy, we love it so much!! Of course you have to love GUTALAX, JIG-AI, SPASM… but you have so many great bands, you must be the worldwide specialists of goregrind, no doubt. But I always think back of bands like GRIDE, I adore their album "Horizont Událostí" for example and also live they are an incredible band. I did an interview with Mallika Sundaramurthy once, the singer from Abnormality, it is an American band, but she got married to a Czech guy who is also playing in Epicardiectomy, which is a great brutal death metal band. You have so many great bands and I am always astonished that metal is so well integrated within the daily lifes of Czech people! I never saw toddlers with corpsepaint with their schoolmistress walking over a stage where a grindcore band was playing a full blown set and being introduced in crowdsurfing, other than at OEF! So amazing! But I could go on with bands like CUTTERRED FLESH, DISFIGURED CORPSE… So, yes, I believe I have an idea about the Czech scene.
What plans does COLUMBARIUM have for going into 2024? Are there any greetings you wish to send out to friends, family, fans, etc?
In the coming year we want to play as much shows as we can, we are looking at new venues especially where we haven't played yet, if possible in new countries where we haven't played yet. We are going to play some great festivals next year, but I can't tell really much more about that yet, it is just too early. But things look really exciting. We are working on new music already and maybe will want to release an EP next year with four songs, but also that's not sure yet. Maybe we might decide to work further on new music and keep our new songs with us for a second full album, who knows. But there is definitely already some new music in the making. We want to keep growing as a band for sure. And definitely not forget about the fun, haha, we are all really good friends in the band and love to play together, have a few drinks at our rehearsals and create the music that we like all together… hopefully people will also like what we are creating, because we are always looking for new angles on our compositions, we are not afraid of experimenting with things, haha! And yes, of course we want to say hi and thank some people, not to forget our great roadies Glabbi and Filip, Gero at Argonauta Records and Oleks at Grand Sounds. But of course most of all the people that have supported us in any way. We received a lot of awesome comments on our new record and we are incredibly greatful for that. So most of all thanks to the fans that visited our shows, bought some merch or our album, it has been an amazing journey for us in the last few months heading up to our album release date and now sharing our music through ARGONAUTA. We also want to thank you for our having this interview with us and giving us some exposure within the great scene of the Czech Republic!! Thank you very much! Doom On everyone!!! Cheerz & Thanx! Pls don't hesitate to contact us directly with any question or request: https://linktr.ee/columbariumdoomation
Thank you very much! All the best and take care. Regards from Czech Republic!
COLUMBARIUM is:
Pete 'Jules' V – Vocals, Bass
Biezie – Guitar, Keyboards
Markie – Guitars
Vincent 'Mille' Millecam – Drums