The Swedish Metal Chaos – Death Metal from Stockholm, Sweden
Interview: HG Hogström – Guitar
Hello! You have recently released your new album "Forlorn Reign". How did the creation of the album go? What's the feedback been like for the album so far? The album is packed full of brilliant songs and killer riffs…
Sometime after the constellation of Circle Of Chaos was in place, the band began to write new material for the next upcoming album. This was in 2019, early 2020. A few songs were already in place like, "Fires Of Armageddon" and "Spectral Disease", and the first new song that came up was "Purgatory" involving Marcos, writing the lyrics. Glad to hear that you like our material.😆
So far we have gotten great feedback for the album and also on tour playing our new material, even though rarely no one has had a chance to listen to it forehand.
There has been a period of over eight years between 'Crossing the Line' and 'Forlorn Reign', but line-up of CIRCLE OF CHAOS is very different just now. Please, can you introduce all persons of your band?
The band is still consisting of 5 band members but only me, HG remain from the earliest line-up. Me and Per Kolderup-Finstad (vocals) played at the Czech Death Fest with just one guitar player and the drummer from "Crossing The Line". The bass player (who did a really great job on the show) was never a part of the band though. This was in 2016 and it took almost 3 years before Mark Villaroel Ampuero joined on drums. I asked Jimmy Lundberg, who played with me in another band, to join CIRCLE OF CHAOS a few months later. After trying out several different Bass players finally Maël Nagot completed the line-up. Everyone in the band have a clear picture of what CIRCLE OF CHAOS should be doing musically and what to aim for.
What are your expectations with this new start?
The bands expectations are quite reasonable, still aiming to be one of the best live shows in the genre. We are aware of the difficulties and want to start collaborating with a hard working management company to achieve our goals.
Currently we are looking for the right company meanwhile booking gigs ourselves. CIRCLE OF CHAOS are planning a tour in Sweden, Norway this fall and later this year in Poland and the Czech Republic, since we have many fans in those places.
Are there a persons from the metal scene who has especially influenced you?
I think everyone in the band have their own special influential bands, we do all agree on some common ground like old SEPULTURA, TESTAMENT and old school Swedish death metal. For me I like Swedish bands like DISSECTION, UNLEASHED amongst others.

Please, can you tell me something about sound of new record? Is it really massive matter… How did the the recording process go for the album? Any details you'd like to share with us?
Cannot tell you so much regarding the sound of the album other than that Jari Lindholm did a great job on the mixing and mastering. We aim to be as close to what we sound on stage as possible in our recordings.
Is there something that you have learnt from writing this album that you will take into account when writing the next release?
I'm already working on new material (of course😆) but thinking about the next album I would hope for us to be able to work more together with the music and lyrics, everyone should be involved.
Do you have a favorite track off the new album? Or is there one that really stands out? What do you think?
My favorite track of the album has been varying a lot since we recorded it but still I consider "Fires Of Armageddon" and "Purgatory" to be those who I always come back to.
The album has been released with Satanath Records from Russia. How difficult is comunicate with label just now? And what do you think about situation in Ukraine?
Ooh, we have had really big issues regarding the label, with the release and promotion that was far to late, if at all. I think Aleksey (Satanath Records) was doing what he could but, yes, this was a major setback, for sure!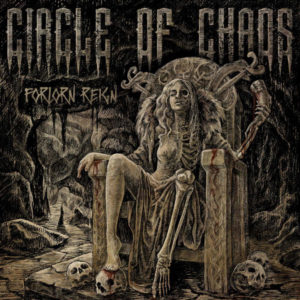 The situation in Ukraine is terrible, and all the fear this war brings to the most European countries, I don't have words to describe. I do think you can find a lot in our lyrics saying how we feel about in general.
Do you think that death metal is an evolutionary genre nowadays, do you think that it is possible to do something more in this music? What do you think about new death metal bands?
I always think bands, even if they are trying to stay pure, bring new stuff to the genre. I always have fun experimenting around the rhythms and disharmonies to see what will come out of it. The reason it comes out in the way it does and becomes a part of the death metal concept is more of the legacy and long time listening of the music.
We can listen to different kinds of metal music nowadays. Do you enjoy these new kinds and everything that is connected with it? I mean stuff like industrial death metal, death metalcore etc. Do you accept stuff like that?
I enjoy good music almost everywhere I can hear it, regardless to genre, but I think it´s obvious whether the music is done by heart or not. This is important! No posers, please.
What is exciting you the most in death metal music? Do you like spirit of scene like fans too?
I love the fans! I love playing the music and all the energy connected to it. I love going to concerts and be a part of the crazy crowd as well.
Do you like to play live? And are there any intentions of touring?
Please let us keep the music live! Touring is a way to be able to connect with metal heads all over the world and to reach out with our music.
Thanks a lot for finding some time to answer these few questions. Now feel free to add some final words.
Finally I thank you a lot for taking the time to find out and learn more about the band CIRCLE OF CHAOS. We really appreciate this! Hope to see you!
ALL