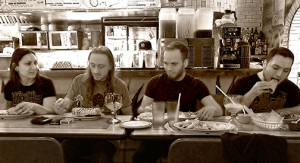 Chicago-based metal powerhouse TRIALS will release their third full-length, "This Ruined World" on July 24.
Following a pair of critically-acclaimed independent releases – Witness to the Downfall (2011) and In the Shadow of Swords (2013), TRIALS has returned with their most evolved effort to date. Featuring nine tracks of intricately-woven, relentless and forward-thinking metal, This Ruined World blends aggression and progression for devastating results. Diehard DIYers, TRIALS is a band determined to blaze its own path, free from label interference. This unwavering dedication to substance over style has never been more apparent than it is on This Ruined World.
"This Ruined World contains some of the darkest, most complex music that we have made yet. We put a lot of blood and sweat into this project, and ended up with a record that represents us at our very best," stated guitarist / vocalist Mark Sugar.
The album was recorded by Pete Grossmann at Bricktop Recording (Weekend Nachos, Hollow Earth) and mixed by Quentin Poynter at Gunpoint Recording (The Skull, Veil of Maya), with art work courtesy of Eva Bialecki (Jar'd Loose).
TRIALS will self-release This Ruined World July 24 on CD and digital formats. Stream album track "Don't Believe the Word" and the band's cover of Strapping Young Lad's "Far Beyond Metal" at trials.bandcamp.com.