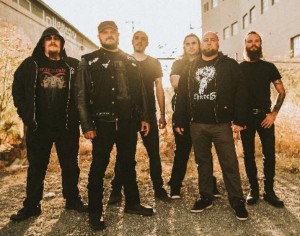 Hailing from Oakland, Ca, the 6 piece crushing tribe of doom CATAPULT THE DEAD, are teaming up with San Francisco's Doom Stew Records for their latest full length release "A Universal Emptiness", due on November 15th, 2017.
CATAPULT THE DEAD bring to the genre their own version of musical sorrow, despondency, and longing. This unique and haunting outfit is as beautifully devastating as it is callous and brooding.
A Universal Emptiness is a 38:39 minute apocalyptic journey. Sweeping synth and organ soundscapes lead you eerily, through a dark thunderous wall of sound. With thick brutal guitars at the core, it's rhythmic foundation is dragged angrily along by layered bass and powerful booming drums. All the while baleful roars and ghostly wales round out this bleak, crushingly dynamic, full length offering.
A Universal Emptiness will be available on November 15th. CD and LP's are available through Doom Stew Records. Digital download and cassette tapes are available directly through CATAPULT THE DEAD. The 12″ vinyl comes in 3 special color variants to compliment thebeautiful illustrations created by Macedonian artist Pig Hands. Also featuring insert and label Illustrations by Death Ink.
https://catapultthedead.bandcamp.com/