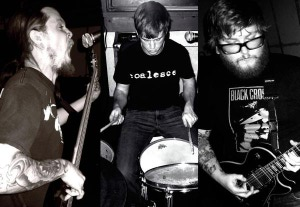 BURN THE ARMY was formed in Indianapolis In October of 2010. Corey Clark had approached longtime acquaintance, Jordan Smith, to start something a bit more interesting. Having bonded over similar interests in bands like Torche, Isis, and many others of the like, they began writing. Their first choice of drummer, a former bandmate of Clark, fell through only to welcome Dyllen Nance to the position. Nance, having partied the night before at the house where Clark and Smith were writing, stumbled in, introduced himself, and offered to fill the spot. The match was ideal.
His technically-minded style melded perfectly with the riffs written by Clark and Smith. Shortly thereafter they would begin to write what would come to be their debut effort, The Tide To Sink The Summit. After four years of playing together, Burn The Army have developed a swirling, intense, post-metal, goodness. They have maintained a steady show schedule in Indianapolis, sharing the stage with the likes of Jucifer and Author and Punisher. Burn The Army continues to shape their ever-evolving style with efforts to release a full-length in the coming year.
NEWS
Indianapolis based post-metal band, BURN THE ARMY will release their debut EP The Tide to Sink the Summit on October 21 2014. Consisting of 4 blistering tracks,The Tide to Sink the Summit will please fans of bands such as ISIS, CONVERGE and even TOOL.
BURN THE ARMY IS:
Corey Clark – Bass, Vocal
Jordan Smith – Guitar, Vocal
Dyllen Nance – Drums, Vocal