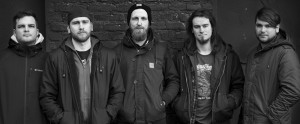 German melodic death metal band BURN DOWN EDEN to release new album on September 30th! "Forst, a city lost deep in the German Hinterland bordering Poland, lays heavily infested with Heroin, Crystal Meth and the living dead. No wonder former members Tom, Jules & William wanted to leave the dark prospects of a perishing local music scene behind… BURN DOWN EDEN was born!
After a few line-up changes, the band found its stability with Kai (Vocals), William (Guitar), Tom (Guitar), Robert (Drums) and Max (Bass)
While making no mistery of their punk rock influences, the band started to hone their skills and draw inspiration from the likes of IRON MAIDEN, SLAYER, WINTERSUN, CHILDREN OF BODOM and AT THE GATES. The result: a supercharged, pissed-off, technical yet ruthless Death Metal, delivered in pure Swedish style.
After their first EP, "Memoirs of Human Error", the band further sharpened their sound and are getting ready to unleash their debut full-length, "Ruins of Oblivion"–to be released on September 30th on CD and Vinyl. The songs are available for download exclusively at the following link: https://itunes.apple.com/de/album/ruins-of-oblivion/id1132118875