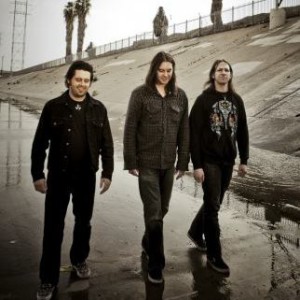 BORN FROM THE ASHES of their respective former bands seventeen years ago, High On Fire wasted little time in calling down the incomparable thunder and tumult, inspiring countless other bands and artists in the time since. Over the course of their career thus far and through various lineup changes, the three-piece consisting of Matt Pike (vocals/guitar), Des Kenzel (drums) and Jeff Matz (bass) is the band at their most fully realized and utterly relentless. Through six full-lengths and a number of live releases and EPs, the punching command of High On Fire has established the band as an unmatched and wholly unmistakable force in the realm of heavy metal.
Beginning with 2000's The Art of Self Defense, the band's rise to nearly universal acclaim and respect was not unlike the full throttle gallop of their music with critics, fans, and peers alike heralding the band's sound as a masterful nod to metal's roots threaded through an unforgiving ferocity and execution that remains matchless even now. After joining esteemed independent metal label Relapse Records in 2001, High On Fire unleashed what would become three of the most dynamically influential heavy music releases of the 21 st century thus far with Surrounded by Thieves (2002), Blessed Black Wings (2005), and Death Is This Communion (2007).
A year after signing with the highly regarded eOne Music and Century Media Records, High On Fire released 2010's Snakes for the Divine – a powerhouse record that saw the band embrace a more ornate approach with their sound without compromising its most inimitably raw edges. The album garnered the band enough well-deserved notice that they soon found themselves supporting Metallica in the same year. With widely respected producer/engineer Kurt Ballou at the helm, 2012's De Vermis Mysteriis brought High On Fire immediate and virtually universal acclaim from critics and listeners alike who lauded the record as the group's most compositionally flawless to date. Just twelve years after their debut, High On Fire had become the litmus test for nearly every other group who might lay claim to the title of "heavy" in their wake.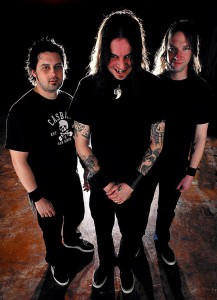 Now, three years later, High On Fire are set to unbridle their most formidably heavy release yet with Luminiferous. A nine-track venture into those signature sky-shredding riffs of Matt Pike, pummeling bass work of Jeff Matz, and hellish gallop of Des Kensel, Luminiferous is the unequivocal culmination of the band's characteristically unhinged yet entirely focused savagery. Make no mistake, though. This is not some casual revisit to formula for the Oakland-based trio. Building on those tendencies of its last two predecessors,Lumifierous finds Pike at his most vocally daring yet, infusing the explosiveness of sound with his melodic but no less scorched vocal stylizations.
Beginning with the whiplash rhythm of "The Black Plot," Luminiferous charges forward with abandon, only briefly slowing its churn with "The Cave," and its descent into a psychedelic and ethereal haze. Whether with the breakneck anthem of "Carcosa," the blistering thrash of "Slave the Hive," or the roaring sonic gauntlet of "The Sunless Years," Luminiferous represents yet another definitive stroke of heavy metal mastery for this inimitable band that's been breaking and rewriting the rules for years now. Further proof that heavy metal's throne remains occupied with only one band, Luminiferous is a crowning achievement for High On Fire and an undeniable declaration that their reign isn't likely to end anytime soon.