BLOODHUNTER is an extreme metal band born in Galician lands (Spain) in 2008 from the hand of sole founding member and main songwriter, DANI ARCOS. After several changes in their lineup and concept, DIVA SATANICA joins the band in 2009, whose guttural vocal assault helped drift the band into more extreme territories. They release a demo called "THE FIRST INSURRECTION" in 2013, garnering good reviews from the specialized media.
Their self-titled full-length album is released in May 2014, produced by DANIEL CARDOSO and PEDRO MENDES at ULTRASOUND STUDIOS. Eleven tracks that include updated versions of the 3 songs already present in the demo, as a result of a journey from the instinct that expresses the essence of this band: its versatility. MARIOS ILIOPOULOS, founding member of the Death Metal band NIGHTRAGE, contributes the typical passion of a south European guitarist adorned by the subtlety of the Gothenburg school of playing, creating a magnificent guitar solo for the song "BRING ME HORROR" which fits perfectly with the concept of the band. "EMBRACE THE DARK LIGHT" and "DYING SUN" videoclips are released in June 2014 and October 2015 respectively in order to push the album through the internet.
This album has been distributed physically in many countries around the world such as Japan, USA, Mexico, Brazil, Argentina, Spain, Portugal, UK, Germany, Sweden, France, among others.
In the Summer of 2015, their lead guitarist DANI ARCOS wins the chance to participate in the "100 GUITARS FROM HEL" event, travelling to Finland in order to play an entire 30-minute piece with guitar shredder ALEXI LAIHO from CHILDREN OF BODOM, SAMY ELBANNAN from LOST SOCIETY and ARCHIE CRUZ from SANTA CRUZ among others. Later, the band would open for bands like Hemdale (USA), Holy Moses (Germany), Avulsed (Spain), Ancient Rites (Belgium), Rise to Fall (Spain) or Aposento (Spain), before joining Nightrage (Sweden) and Methedras (Italy) on their first weeklong Spanish trek called "THE BLOODY TOUR".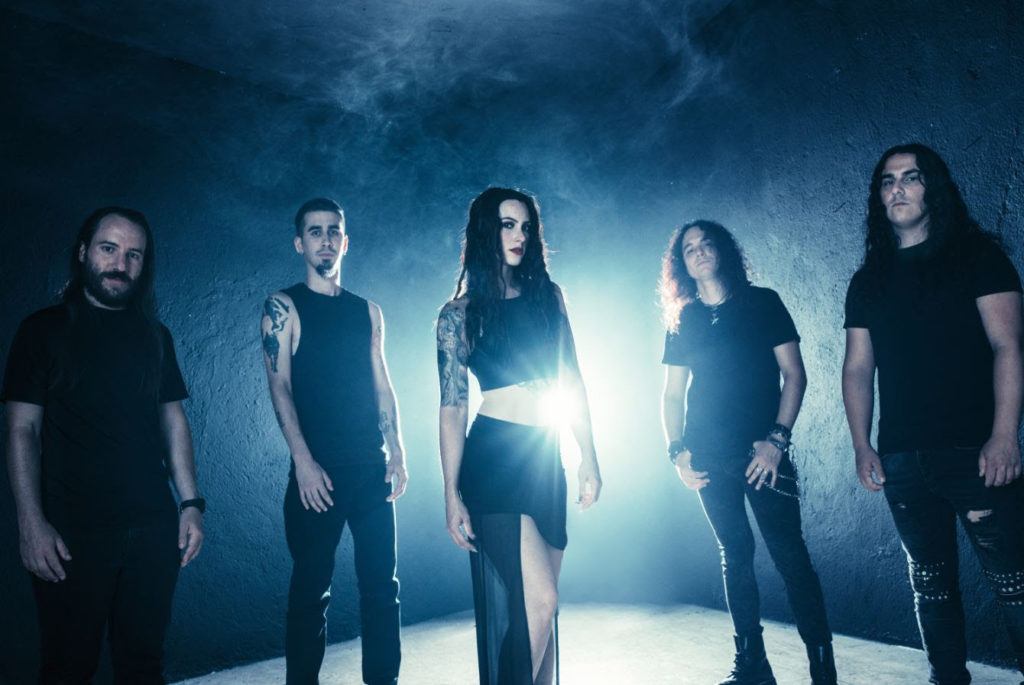 DIVA SATANICA participates in the TV Show "THE VOICE", surprising the coaches by singing screaming and growling, being the first contestant to perform this type of singing. The international artist JUANES chooses her to be part of his team, where she performed songs like "SWEET DREAMS", "EYE OF THE TIGER" or Lady Gaga's "BAD ROMANCE". "THE END OF FAITH" was the second full-length album of the band, produced by ÁLEX CAPPA and BLOODHUNTER at THE METAL FACTORY STUDIOS, which contains ten new tracks and a CRYSTAL MOUNTAIN's DEATH cover where you can hear DIVA SATANICA's new broad vocal range as well as a mind blowing drum performance by MARCELO AIRES. This album is the natural evolution of the band playing extreme metal without neglecting guitar melodies. "ALL THIS SOULS SHALL SERVE… FOREVER!" is the first videoclip of this album.
During the presentation of the album they participate in some of the main summer festivals of Spain like RESURRECTION FEST, LEYENDAS DEL ROCK, ROCK THE COAST and OTERO BRUTAL FEST among others, sharing the stage with bands such as Children of Bodom, At the Gates, Entombed, Suffocation… and other legendary bands like Rainbow, Megadeth or KISS. At the same time, DIVA SATANICA did some collaborations with other artists such as KAMELOT or MÄGO DE OZ during their summer tours. In September 2018, the band releases a new videoclip which contains a cover of HELLOWEEN's "I WANT OUT". LEO JIMENEZ, the best heavy metal Spanish singer, collaborates in this song with his spectacular voice. During 2020, BLOODHUNTER released a reissue of their first album with a new artwork. This reissue included 6 live bonus tracks recorded in Madrid during THE TOUR OF FAITH (2018-2019). Since beginning of 2020, DIVA SATANICA is also the new vocalist of the Brazilian band NERVOSA.
News:
Bloodhunter will re-release their debut self-titled album from 2014 on July 3rd 2020 (Digital) and September 4th 2020 (CD). The re-release will include bonus EP – "Live in Madrid (2020)"!
Band comments about re-issue:
Diva Satanica:
Bloodhunter was my first studio recording as a vocalist. It was a hard process during which I learned a lot and for that I'm especially fond of it. When we realized that physical copies were selling out, we started to think of the idea of making a reissue further on, as a gift to the fans, and that's how this reissue came up, with new artwork by Gustavo Sazes and 6 live bonus tracks from the concert we played in Madrid last year.
Daniel Luces:
"Bloodhunter, our first album, will always hold a special place in our hearts. The experience in the studio with our engineer Pedro was eye opening, and I personally learned a lot from him that shaped me both as a bass player and a sound engineer, which consequently spilled over to our second album when we took most of the engineering duties on our own hands. When considering the idea of a reissue with a new cover and layout, we decided to use the tracks from the live show we recorded in Madrid in March 2019, which I think makes a great contrast in showing where we were as a band in 2014 compared to 2019 with a second album and several big festivals under our belt. We hope everyone enjoys the new design and the bonus tracks, and maybe it also gives new fans the chance to rediscover our early work!"
Dani Arcos:
"We have been thinking about reissuing our first album for a while, as it has been sold out since 2015, but we didn't want to just release it again, so we tried to record a couple of shows in order to add some live bonus tracks to this reissue. We usually have positive comments from our fans saying they love our live shows, so this is a compensation for their support in these hard moments. We have very good memories when we were recording this album with Pedro Mendes in Braga (Portugal). There were many changes in BLOODHUNTER since we recorded this album, but the core of the band remains the same."
https://www.facebook.com/BLOODHUNTEROfficial/
http://www.bloodhunter.net/