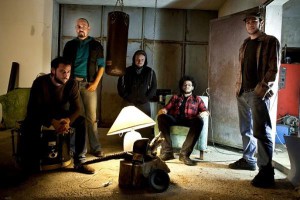 GAMMY is the fifth album by italian band BLEEDING EYES. It's an outburst of feelings, emotions and matters: restlessness, darkness, disillusion, inspiration, rebellion, hope, tears, blood, pain, pleasure, etc. Musically, stoner, sludgy and psychedelic riffs are spiced up by harsh and lysergic vocals and lyrics, sung according to the track in italian or english.
Various guests appear in the record: Nicola Manzan (Bologna Violenta, Menace, Ulan Bator) on Violin, Mauro Franceschini (Captain Mantell, Ottodix) on Percussions, Alessandra Perozzo (Bogus Jail), Luca Ferrazza (Slowdown) and Alberto Silvestrini (ex Bleeding Eyes) on Vocals and of course AMA (AMA) with his sonic invasions.
GAMMY's graphics were created by a suggestive collaboration between Lorenzo Ferraro (Photographs) and Eeviac (Designs). GAMMY was conceived, recorded and mixed at BADRUM Studio in Asolo (TV) through April and September 2014.
Bleeding Eyes:
Lorenzo Conte – Drums & Backing Vocals
Marco Dussin – Bass
Simone Tesser – Vocals
Jason Nealy – Guitars
Nicola Anselmi – Guitars
Tommaso Mantelli – Effects
https://www.facebook.com/bleeding.eyes