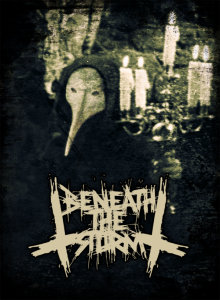 BENEATH THE STORM is a one-man, downtempo doom-sludge band, created by Igor Shimon. The project came to life in the cold and long winter of 2012. It awoke on ruins of several underground death metal and sludge bands. The dark and eerie ideas were building up in the founder's mind for several years and it was the right time for them to be released. The goal was to create the most brutal and slow-as-possible sound there is, without any compromise.
Lyrically, BTS is heavily influenced by classic horror movie themes. Musical influences came from several genres such as sludge, doom, funeral doom, stoner and drone. The band´s debut album "Temples Of Doom" was released on 11/11/2013 via Argonauta Records. A couple of months later, Breathe Plastic Records released it on cassette tape.
After receiving a much more positive feedback than expected, Igor returned to the studio to record the follow-up album "Evil Reflection" which was released on June 2nd (Argonauta Records). About a year later, on September 1st, Argonauta Records released the 3rd album "Devil's Village", on CD and vinyl. The LP comes with a patch and mini poster, and the CD version contains two bonus tracks.
https://beneaththestorm.bandcamp.com/
Devils Village is a concept album based on the cult classic movie "City Of The Dead". The music is firmly rooted in slow-paced Doom Sludge Metal territory.