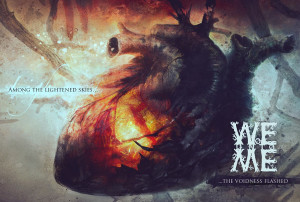 Belarusian doom/death metallers WOE UNTO ME will release their new double album, "Among The Lightened Skies The Voidness Flashed", on September 29 via Solitude Productions. Menwhile they present the official 360° Lyric Video for the new song, "Triptych: Shiver, Shelter, Shatter". The song features special guest vocalists: Daniel Neagoe (CLOUDS, EYE OF SOLITUDE, SHAPE OF DESPAIR), Patryk Zwoliński (PROGHMA-C, ex-BLINDEAD, ex-NEOLITHIC, ex-ANTIGAMA), Jón Aldará (HAMFERÐ, BARREN EARTH, CLOUDS).
Here's what the band says about their upcoming release: "Musically, artistically and in general content both CDs will be radically different from each other: the first part plunges the listener into a dark and depressive atmosphere of doom metal in its various shapes, the second one is an acoustic melancholy, which will envelop you with a blanket of autumnal gloom and sad beauty."
n support of the new album, WOE UNTO ME will launch their THE FALL OF AFFLICTION TOUR in Europe on October 15th in Kiev, Ukraine on DOOM OVER KIEV Festival, sharing the stage there with SWALLOW THE SUN, SATURNUS, CLOUDS, EYE OF SOLITUDE and others. Then the routing will continue starting from October 19th and will cover the following countries: Poland, Lithuania, Latvia, Estonia, Finland, Russia and Belarus. WOE UNTO ME are revealing all the confirmed dates so far in the tour alongside their colleagues PSILOCYBE LARVAE (Russia), FRAILTY (Latvia) and NEBULAE COME SWEET (Belarus).
Catch this line-up in the following cities:
14-15.10 [UKR] KYIV*** / "ATLAS"
19.10 [POL] WARSAW* / TBA
20.10 [POL] GDANSK* / "PROTOKULTURA"
21.10 [RUS] KALININGRAD* / "DETROIT 39"
22.10 [LTU] VILNIUS / TBA
23.10 [LTU] KAUNAS** / "LEMMY"
24.10 [LVA] DAUGAVPILS** / "ARTILĒRIJAS PAGRABI"
25.10 [LVA] JELGAVA** / "MC BALERIJA"
26.10 [LVA] RIGA** / "MELNĀ PIEKTDIENA"
27.10 [EST] TALLINN** / "ROCKSTAR'S"
28.10 [FIN] TURKU / "TVO"
29.10 [FIN] VANTAA / "BAR ROCK BEAR"
30.10 [FIN] HELSINKI / "ON THE ROCKS"
31.10 [RUS] ST.-PETERSBURG* / "MOD"
02.11 [RUS] MOSCOW* / "MODEL T"
03.11 [BLR] VITEBSK* / "TORVALD"
05.11 [BLR] GRODNO*** / "MOVIE 60"
Follow WOE UNTO ME:
FB: http://www.facebook.com/woeuntome
Bandcamp: http://woeuntome.bandcamp.com
Instagram: https://www.instagram.com/woeuntome/
VK: http://vk.com/woeuntome