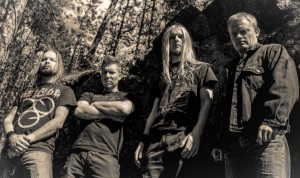 Legendary finnish dark metal group MUSTAN KUUN LAPSET suddenly resurrected last year from the depths of abyss since ending their career in 2007.
The time has come for a new MUSTAN KUUN LAPSET material and the band has released a new EP MUSTAN KUUN LAPSET via Inverse Records named "Kuolemanvirta" which is is available in all digital music services worldwide. Kuolemanvirta is the first official MUSTAN KUUN LAPSET release since the compilation album "14 Talvea" (Roihu records, 2011) and the last studio album "Viimeinen laulu kuolemasta" (Stay Heavy Records, 2007).
MUSTAN KUUN LAPSET will celebrate the release of "Kuolemanvirta" in Nummirock,which is one of the biggest open air metal festivals in Finland!
https://www.facebook.com/mustankuunlapset/
Members:
Pete Lehtinen – vocals, guitar, synths
Ville Pelkonen – bass
Mikko Hautala – drums
Heikki Piipari – guitar