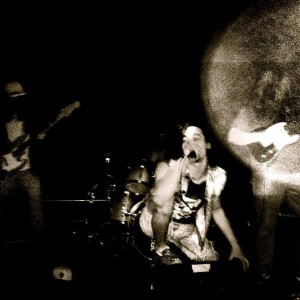 BARISHI is making their mark in the New England metal scene and beyond. Formed in 2010 as an instrumental three piece know as Atlatl they began writing songs influenced by fusion and progressive music. Their style quickly started getting heavier and darker while retaining some progressive influence, thus forging their own style of heavy psychedelic metal. In 2012 they found a wayward vocalist wandering the streets of Keene New Hampshire.
Bringing him into the fold they found that his sound melded excellently with theirs. Thus, Barishi was born! Earth shattering grooves combined with savage vocals completed the sound that could only be born in the verdant mountains of Southern Vermont. With their debut self-titled album and this year's Endless Howl EP, Barishi is truly a force to be reckoned with. Prepare yourself to be pummeled and thunderstruck with ecstatic metal from the ancient hills of New England.
New EP
Dynamic Vermont Metallers BARISHI have just released the Endless Howl EP, the follow-up to 2013's acclaimed self-titled full-length. The band's new effort is a brilliant mix of progressive metal dynamics and inventive hardcore harshness that is at once creative, melodic, and captivating. The Endless Howl EP is streaming in its entirety and available for purchase at http://barishi.bandcamp.com/album/endless-howl-ep
The BARISHI sound is indeed one of depth and breadth. In a review of the self-titled debut, Andy Synn of NoCleanSinging.com described it as "avant-garde prog-metal, one which mixes Intronaut's more melodic and psychedelic tendencies with the hardcore bite and bitterness of Poison The Well and the same sort of autistic-savant creativity of Ihsahn's solo output." New Noise Magazine's Eric May spoke in broader terms of the band's promise and potential in writing that "it's going to be something that makes fans of everything from Dream Theater to the Dillinger Escape Plan to Enslaved happy." Get the picture? And that was the sound of a band just getting started. On Endless Howl, BARISHI not only delivers on the promise of that debut, they take it to a whole other plane of existence.
Line-Up:
Sascha Simms-Vocals
Graham Brooks-Guitar
Jonathan Kelley-Bass
Dylan Blake-Drums