AYTHIS is the solo project of Carline (LETHIAN DREAMS, REMEMBRANCE) that came to life in 2006. Lyrically inspired by dreams and isolation, AYTHIS aims to be timeless and isolated from human nature. AYTHIS' harmonies are created by the alchemy of an ethereal voice, lush keyboard atmospheres, haunting guitars with hypnotic melodies. In July 2007, AYTHIS catches the interest of the english label Paradigms Recordings that releases Aythis' dark ambient/gothic debut album DOPPELGÄNGER in November 2007.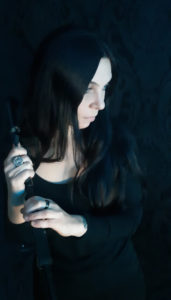 After the succes of DOPPELGÄNGER, AYTHIS gets in contact with the well-known French label Prikosnovénie that releases the second album GLACIA in March 2009, a work that turns out to be more orchestral. GLACIA paints a picture of wintry, icy and desolated landscapes and receives very positive feedbacks from the press and the listeners. One year later, AYTHIS signs with Twilight Records (Jarboe, Frozen Autumn, In my Rosary…) in 2011 to release the follow-up for GLACIA, called THE NEW EARTH.
The 4th album, THE ILLUSION AND THE TWIN is released in January 2016. Once again the listener is taken into a realm where melancholy reigns. The world of AYTHIS attracted the attention of film directors the same year, resulting in 3 songs from this album featuring in 2 movies. "Without A Name" and "The Other" feature in the movie THE CHAIN, and "Inertia" and "Without A Name" feature in the movie YESTERDAY'S GIRL.
AYTHIS is back in 2021 with a new album SECRETS FROM BELOW, taking the listener to hidden places, underneath the surface of the earth and into desolated forest, the above, the below. Sonically, the guitars are more present, giving at time a shoegaze/post-rock feeling and a melancholy that would appeal to any fan of DARK ETHEREAL music. The immersive keyboards and dreamy piano melodies are not left out, and adding to the overall atmosphere, and to the neo-classical/ambient touch that has always been part of AYTHIS' sound.