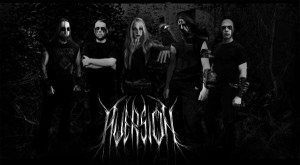 AVERSION merges early Scandinavian Black Metal roots with old school Thrash Metal grooves while excelling at a raw and aggressive feel, with authenticity contributing to the universe of Heavy Metal music. The group's approach is done with a level of respect and an aura of ritualistic mystique. For AVERSION it's not just a performance, but also a summoning and channeling that leads to an exorcism of the spirit.
Since its inception, the Canadian quintet has sculpted their craft modestly to a raw sound. To those who hear their art, the sacrifices are palpable and the cruel intensity of the aural discharge rapidly grows making them gain a vast reputation for their live performances that embody every aspect of traditional Black Metal sorcery, through a ceremony of blood, bones and death.
AVERSION formed in Montreal, Canada in 2011, In 2013 the band released a limited edition demo named Pre-Life Nostalgia and now in 2015 with the release of their full length self titled album. The band has been playing both shows and festivals. Recently making their appearance at the Messe Des Morts Black Metal festival and This Summer co-headling the Doom Over T.O Festival 2015.
Notable stage appearances shared with SETH (France), SAMAEL (Switzerland), PANZERFAUST (Ontario, Canada) SHINING (Sweden), CULT OF FIRE (Czech Republic), MAKE A CHANGE… KILL YOURSELF (USA), MUTILATION RITES (USA) ANGANTYR (Denmark).
Band members:
Vena Kava (Vocals)
Max Macabre (Guitar)
Nemrod (Guitar)
Vilain (Drums)
Leather King (Bass Guitar)