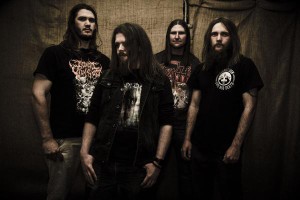 Hailing from Australia, death/doom collective The Maledict have released their brand new three-song single/MCD "Imperilled" on October 5th. This new single features one new song, one reworked track from the band's 2013 demo, and one cover.
The title track heads up the package, bringing 8 minutes of doom. The new material is as laden with melancholy as ever, but now hints at things to come – with a heavy injection of atmosphere and melody to accentuate against the filthy canvas of death/doom metal. "Waltz Eternal", the leading cut from the band's 2013 demo "Salvation in Yielding" has been reworked from the ground-up, bringing one of the band's favourite live tracks into the present with far superior production.
And finally, the release culminates with a tribute to one of the biggest musical inspirations behind The Maledict's sound as they cover the title track from Paradise Lost's seminal 1991 classic "Gothic", arguably the song that invented death/doom as we know it. "Imperilled" is available for free on Bandcamp, as well as being released on most streaming digital music services.
https://themaledict.bandcamp.com/