Interview: SiN (ASTARIUM – one-man project)
Hello SiN! When did you start writing music – and what or who were your early passions and influences?
Hi! I began to write music in black metal genre approximately since 2003 under the influence of BURZUM, NOKTURNAL MORTUM, KATAXU, BAL-SAGOTH and early EISENWINTER.
What do you remember most about the recording of the first records?
"Morannon (Gates to Mordor)" (which was recorded in 2005) became the first track of ASTARIUM. At that time I was in search of own sound therefore each track had 666 versions with different keyboards, various samples of drum-machine, etc. It was amusing and interesting. Then I have felt pleasure from the process, and sound recording became one of my favorite occupations.
What is the driving force that leads you to create music?
It is difficult to tell… The inspiration always comes suddenly, and I take it in greatness and beauty of the nature (especially winter), in decadence of human activity (forsaken houses, ruins, industrial objects), in literature (Lovecraft, Poe, Machen, Simmons), in creativity of other music bands.
Which ASTARIUM album is your favorite and why? What kind of records Of ASTARIUM do you prefere? Metal or ambient projects?
I can't say what album is my favourite as I'm proud of each stuff. ASTARIUM is my autobiography. Each album is an embodiment of my emotions, thoughts, worldviews on a certain time-point. Actually, the stylistics of material – metal or ambient – also depend on these emotions. Anyway, I derive pleasure both from process and from result of record, irrespective of genre in which I work.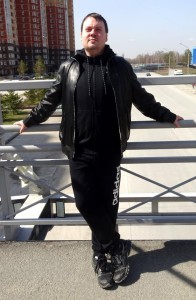 Concerning "Epoch of Tyrant's" lyrics, could you tell us the concepts and inspirations behind the release of this new album?
The basis of EP has been written in 2008-2009 under impression of the tape – Holocaustus "Division Lykanthrop". At that time material hasn't been completed, and has lain forgotten nearly 8 years. In 2016 I have suddenly understood that I'm ready to give finished form to EP. All music (including guitar solos) has been composed. The lyrics has been written on subjects of "war spirit", of "total satanic hecatomb" and about "legions of Horned Warlord". Then, 2 instrumental tracks, that were corresponding to the general atmosphere of EP, have been created. So "Epoch of Tyrant" are ready now as symphonic war black metal mini-album with interesting musical structures and conceptual lyrics.
Can you tell me something about pictures of album cover?
World War II is imprinted in all photos . This event gave freedom to hatred, greed, fear, madness, hypocrisy and contempt – to all "good" that are hidden in the human nature. This is an opportunity to openly take out secret weapon for self-extermination of mankind. I was ruled by these thoughts when I chose photos for EP's cover.
What's your opinion on questions of international conflicts? Are you interested in politics?
I am not interested in foreign policy and international conflicts, because each side of the conflict looks at events through its own prism and sees only its own truth. Clear as a mud-spattered windscreen!
Are you satisfied with lifestyle in Russia?
No, I am not satisfied. Life in Russia has drowned in the sea of civil servants, corruption and hypocrisy. The law is splitting on law for the poor, on law for the rich and on law that doesn't work in fact. Depreciation of the ruble has involved growths of prices on all services and products. Salaries and pensions grow, but inflation grows many times quicker! All of this are sad…
How is the international media responding about your records? How do you feel about the reaction outside Russia?
I receive the most different comments from international media. Someone is spitting from ASTARIUM's music, someone is saying good words, I think that it is normal. Because each person has his own tastes and the opinion. But I'm glad if somebody like my music!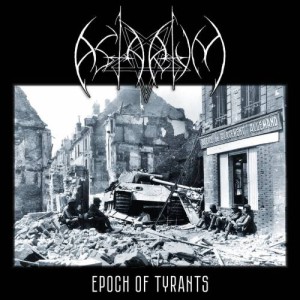 What is your opinion of today's current metal scene? What are some new bands that you've heard that you like? How do you feel about the Russian underground scene nowadays?
Frankly speaking, I bad trace the world and Russian metal scenes, I catastrophically haven't time for it. But I have noticed growth of number of new musicians in black metal genre (especially in DSBM genre). During the last half year I have opened for myself excellent hordes GRANULOSUM, BASTARD and BLACK MAGICK SS. But more I prefer to listen not to the new music, but favourite hordes as BURZUM, ILDJARN, PESTE NOIRE, GRAUSAMKEIT and many others.
Can you tell us something about the metal community in Novosibirsk? It is very hard to have a metal project? What do you think of the current state of metal in your country?
Unfortunately, I can't tell something about community of metal heads in Novosibirsk. As for black metal, this style in our city isn't developed at all. It isn't difficult to have the project at all, music for me it not just pleasure, but lifestyle. Plus ASTARIUM doesn't use expensive equipment and doesn't demand monetary investment as a result. Metal in our country (as well as everywhere) develops slowly, but develops. I would even tell that if to compare quality of the records released by underground labels in 2005 with records of 2016-2017. You can find that progress is perceptible.
Do you have any new material ready? Are there any plans for a new release in the nearest future?
Yes, I have a lot of new material. First of all, it is new album "Drum-Ghoul" which stands in a queue for the CD edition on label, I hope that it will be out during the spring – summer. Also, in this year 2 splits will be released: first with dark ambient project called UVODNA, and second with already known Portuguese epic black metal horde – ANTIQUUS SCRIPTUM. And collaboration with the Novosibirsk experimental project SPASM OF CHARITY will be out on the double cassette in the near future. So this year will be rich by new releases.
Thank you very much for this interview! Do you have any last words for our readers? All the best!
I wish only good music to readers of R.U.M zine. Stay metal! Many thanks for interesting questions! Best wishes to you and your zine!
ALL