Black metal project ASTARIUM is formed in the summer of 2005 in Novosibirsk. In the capacity of the unique member acts SiN (all guitars, programming drums, keyboards and vocals). From the beginning of creative way project has started to play in symphonic tendency and orientated exclusively on studio activity.
Hello Nikolay, thanks for taking time out for this interview. How are you just now? You are activiries are very diverse. What´s news?
Hi! I am ready to answer any of your questions with pleasure! I'm doing fine! Life is in full swing, of course, there are moments that knock me out of the out for a while, but … when did it stop me? This year I got hooked on car trips to various interesting and beautiful natural places of my and neighboring regions. And this is a "fat plus" to inspiration. I also recently updated my set of guitar pedals, so in the future I will add a little variety to the sound of the project.
On the creative front, everything is not bad either, I compose a lot of things and record a lot. I am diligently developing my creativity both within ASTARIUM and within my side project WENDIGO (grunge / punk / garage rock). Recently, WENDIGO's debut album "Dark Ritual" was out on CD and in digital format, and I am actively promoting it.
You're still live in Novosibirsk? Please, can you introduce metal scene in your town, maybe region? Is it good place for metal and cooperating with other bands?
Yes, I live in Novosibirsk. To be honest, it is difficult for me to talk about the scene in the city, and even more so in the region, since I lead a rather secluded lifestyle and do not often attend concerts by local performers. I maintain friendly relations with OLSHANOE (folk / ambient black metal), LIKHOLESYE (folk ambient) and Arseniy Litvin (an artist in non-musical and atmospheric genres). In general, there are a lot of interesting and original bands in Novosibirsk – MARBLE CARRION, KOZZMIC GODZZ, Y'ha-Nthlei and many others.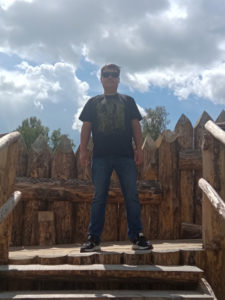 Please, can you tell me something last records? How importent are splits records for you? Do you like cooperete with other artists?
During 2022, split with the US project FIRE MESSIAH and anniversary single of ASTARIUM – "Furies" were released. I'll start with split. In general, FIRE MESSIAH is a project that is quite close in sound to ASTARIUM, so the whole split sounds symphonic and holistic, but there are also differences – part of ASTARIUM (3 tracks) is a wall of black metal sound, when on part of FIRE MESSIAH (also 3 tracks) the sound is including more thrash metal / punk rock influences. The split was released in Russia by More Hate Productions on CD and on cassettes in the US by Snow Wolf label. This split marked the beginning of a friendship with the man behind FIRE MESSIAH. I am very happy and grateful to fate for this acquaintance!
The single "Furies" is work for the 17th anniversary of ASTARIUM. This is a long 17-minute track that has all the best that ASTARIUM has done in its entire existence. Separately, I would like to note the design of the single, as it was remembered and ingrained in the hearts of so many fans of the project. In fact, this is a collage, each element of which is taken from other different images, but it all looks very holistic and even erotic. The CD was released by the Colombian label Masters Of Kaos, and later in Russia by NitroAtmosfericum Records. Cassette edition with many themed bonus tracks is coming soon by Finnish label Troll Legion Productions.
I think that splits are very important, especially if the bands are negotiating to create a split among themselves. First of all, it is communication, and then of course the development of bands, experience, creative growth and awareness of how your creativity is seen by other participants of the split. Well, from the point of view of labels, I think that the distribution of splits is more profitable than the distribution of individual releases, since the target audience increases due to the participation of several bands.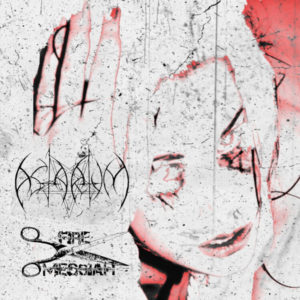 Each of your releases is richly influenced by ambient (plus/minus). Is it ideal music way for ASTARIUM? Can you describe evolution of your music?
Any music track is primarily an atmosphere, and ambient is the best opportunity to convey the atmosphere and the author's idea to the listener. In addition, this is a good reason to experiment and enrich the structure of the track. I'm all for experimentation, so yes, using ambient is the way of ASTARIUM.
The evolution of my music is also my evolution as a person, the evolution of character, the evolution of thinking. Honestly, I will say that when ASTARIUM appeared, I thought by a templates within the genre, now the templates have been destroyed, although certain frames remain, and if I go beyond it, then the word "black" in the name of the style for ASTARIUM will be lost. But in general, we can say that I am free and do what I want, for example – the next metal album Astarium will be technically and structurally very complex and heavy, and after it will be an album in the spirit of total and primitive Ildjarn-worship. The material for these albums is in the process of writing, despite the fact that now ASTARIUM's creativity is concentrated on the ambient – darkwave – dungeon synth wave. In short, the evolution of ASTARIUM is chaos multiplied by my creative madness)))
After so many years in the scene, how do you keep motivated to continue?
Music is what I really like to do in this life, it's what I'm ready to put all my soul and strength into. There is no music in life – there is no meaning. At the same time, recording does not require any serious financial costs, everything is as budget-friendly and Spartan as possible. I create music primarily for myself, but the fact that people listen to it and give me positive feedback multiplies my strength and mood, and this accordingly affects inspiration. Six years ago, in an interview, I said that then ASTARIUM was as strong as ever, but I was wrong. Now ASTARIUM is stronger than ever!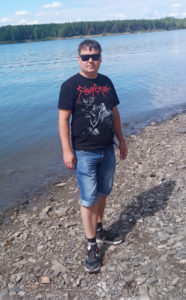 Can you remember what´s the most hilarious thing you have been able to read about ASTARIUM?
There was a case, probably in 2011 or 2012, when one offended stole my photo from a social network (where I was standing with a baby stroller) and posted it on Metal-archives. Of course, I'm not a human being, but a cyberdemon and I can't have children)) I'm worried about one question, what was in a person's head when he did it? What was he counting on? That was funny.
Well, sometimes I am amazed by the reviews of my releases, where they sincerely believe that the guitar in ASTARIUM is not real. Oh, these couch critics. Advice, develop your horizons, if something goes beyond your understanding, it does not mean that it does not exist! Guitar can sound different.
What is it in the world that mostly influences your music just now (music, movies, books, etc.)?
This is a very difficult question. I rarely watch movies, because modern cinema is boring and dull in my opinion. Music certainly influences me, but only music is the same that I heard 20 years ago, I can't find something new and revolutionary for myself. Nothing has changed in my musical preferences: NOKTURNAL MORTUM, KATAXU, EISENWINTER, BAL-SAGOTH.
Books? But I agree with this, I read a lot and with pleasure. I was very impressed by Gustav Meyrink's books "The Angel of the Western Window" and "Walpurgis Night", and I consider his book "Golem" to be "The Book of all Times and Peoples". I am also impressed by Dan Simmons' novel "The Terror", I have thoughts for the musical embodiment of the atmosphere of this novel, but that's all in the future. And recently I reread the book "The Hobbit" and played the game of the same name on the ZX Spectrum and … the creative result was sent to the label for release and received approval…
Sorry, maybe angry question for cool boy like you, but… What do you think about war in Ukraine? What does the average russian think about the war?
I think that any sane person understands one simple truth – "War is always bad"!
Do you feel free in your country? Are you afraid with some things?
I want to answer with a scene from the movie:
A guy comes to the barber at the police academy and tells the barber, "Shave my head." The barber shaves his hair. Another guy comes in after him: "Trim my hair a little bit." The first guy to the barber: "So it was possible?" Barber: "Of course, we are not in army."
(c) Police Academy (Part 1)
And what is there to be afraid of? You know how many people die in car accidents every day. Is everyone must afraid of cars now?
"Fear is the mind-killer…"
F. Herbert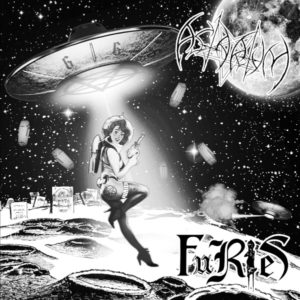 Politics can be a sensitive subject with many artistic people, especially nowadays. Is it problem for metal community too? What´s you opinion?
My opinion is very simple – art is above politics, and such a genre as black metal is exactly art. I believe that politics and art should live separately. Politics has the masses as its target audience, whereas art is exclusively individual. Example, masses VS art. How many people out of 1000 listen to black metal? It is clear that 999 people will simply not understand this style. Therefore, why mix something that is not very compatible.
How diffucult is communicate with foreign partners (bands, labels etc.)? Can you using international social networks without barriers?
I can't complain, communication is fine. In fact, I have little hope for social networks, since I often travel to places so remote from civilization where the mobile Internet is either very bad or not at all, so I try to minimize communication through social networks. Even if there is no way to communicate via social networks, all people have a good old email.
How important is West (EU) for your activities? Have you a lot of friends from Europe or USA?
Every contact, every person is very important. It's not just a publisher, distributor, friend, musician or fan. First of all, this is a person with his own affairs, interests, problems, in general, the same person as me … and if it is in my power to help him in solving some case, I will do it with pleasure. Yes, I have a lot of friends in Europe and in the USA. You will laugh, but in almost every European country I have a friend I can rely on, just as he can rely on me. In fact, I'm happy that it is! I guess I'm lucky!
Where do you see the ASTARIUM heading in the future? Any actual plans?
ASTARIUM's way is forward and only forward! I have already said that "The Hobbit" book and game had a tremendous influence on me, the result was the dungeon synth album, which will be released next year on the Italian label Heimat Der Katastrophe. There are also plans to release a 6-way black metal split on the Polish label Werewolf Promotions, it will be a very interesting diverse work. In the spring of 2023, the ambient demo album "Ashen Spring" will be released in Russia on CD as a co-release of the labels Dark East Productions and NitroAtmosfericum Records. This album was being prepared for publication back in 2019, but its release was postponed and postponed and now … the time has come. Well, the rest, life will show. Now I am composing and finalizing material for 2 albums in the genre of black metal, and also, I have a few more ideas of splits in my head, but how it will turn out will be seen in real life.
Thanks again for taking time out for this interview. Do you have any closing words for our readers? All the best, také care!
Thank you for the interesting and topical questions! I was glad to answer it! Keep your black flame with honor! Stay metal! Stay black fucking metal!
ALL