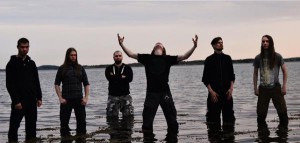 ARCHAEA was founded in 2007 by the Heidarsson brothers Hannes and Markus, on keyboard and guitar. After a few intense formative years in the Gothenburg underground scene, Archaea set its sights putting their songs to tape. During this process Archaea was radically reshaped, with half the original lineup making way for new talent in­ guitarist Magnus Lindegård, drummer Alexander Molnar, bassist Richard Mikulasi and former guitarist Nils Bossius Klintenberg switching to take center stage as vocalist.
Despite little studio experience, they built their own studio to record the first album Catalyst during 2014. With the help of Johan Treptow for mixing and mastering, and with original artwork by Demithréa Mikulasi, Catalyst has turned out to be a creation that surpassed expectations.
Catalyst is an album that showcases the current form of ARCHAEA, as well as capturing material from throughout the band's existence. Ranging from crushing darkness to brilliant melody, with sharp contrasts and fluently shifting dynamics, Catalyst constitutes an intense musical journey. ARCHAEA is now eager to unleash their unique form of melodic death metal upon the world!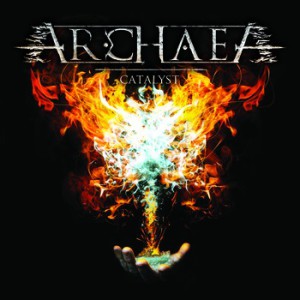 Debut album – Catalyst
When does a Gothenburg melodeath band not sound like a Gothenburg melodeath band? When they are Archaea, who roll out a hybrid of thrashy yet symphonic leanings in their melodeath. Markus Heidarsson has a whiff of Ola Englund about his guitar playing, particularly in the solos, playing against the harsh roar of Nils Bossius and the tightly-wound rhythm section. Orchestral stabs punctuate tracks such as Silhouette, while "Vacuum" revels in a circus-like atmosphere, and Saltâ dances around a piano and strings melody amid the groovy stomp. Rounding out on "Solâ" is a simple yet stunning finale, far removed from metal.
In their own words, Archaea describe their lyrical themes as describing struggles on a personal and global scale, elusive antagonists and the unyielding indifferent elements, although "Quad Damage" reveals the band's love of video games with a sly reference.
The band have revealed the release date for the physical version of Catalyst, set as 28th August 2015. The CD comes in a digipack with stunning artwork and photos from Demithréa Mikulasi and Jessica Blomé.
ARCHAEA are:
Nils Bossius – Vocals
Hannes Heidarsson – Keyboard
Markus Heidarsson – Guitar
Magnus Lindegård – Guitar
Richard Mikulasi – Bass
Alexander Molnar – Drums