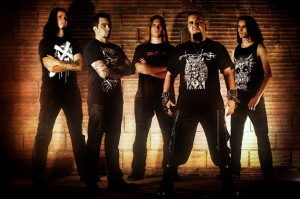 Nearly two years ago, ANTROPOFAGO revealed all details about their second full-length, Æra Dementiæ. The album was recorded in August of 2013 and was initially set for an early 2014 release date. Since then, the album suffered from multiple delays. Those obstacles have been overcome and the band is ready to unleash the madness upon mankind!
Æra Dementiæ marks a great step forward from the band's self-released debut full-length, Beyond Phobia, with an intense and heavy production paying homage to the band's technical and songwriting abilities while pursuing the conceptual path started with their debut and the 2012 EP, Between Fear and Madness. Where Beyond Phobia was an exploration of fears, Æra Dementiæ is a thematic decent into madness, a concept mirrored by the band's insanely paced, intricate, complex grabbing hold of the unsuspecting audience, brain-drilling its catchy, twisted anthems into the listener's mind.
Limited to 500 copies, Kaotoxin Records will release the album as a deluxe DigiSleeve double CD featuring an expanded version of Between Fear and Madness. Æra Dementiæ, features guest appearances by past and current members of GOROD, INSAIN,NEPHREN-KA and SAVAGE ANNIHILATION.
The album will at long last be released worldwide on August 14. Both releases, Æra Dementiæ and the expanded edition of Between Fear and Madness [redux] will also be made available separately as two digital downloads on the same day.