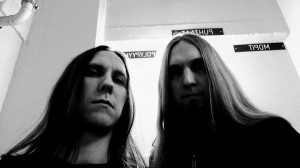 ANTIPOPE's music is a free expression of what ever styles, themes or moods is needed to relate the particular message to the listener. Too often the concept of the band is understood in the framework of "black metal", even though the band name itself stands for liberation from any and all dogmas and renouncement of intellectual/ideological authorities. Antipope's music is a soundtrack for self-discovery, death and rebirth.
ANTIPOPE was formed in Oulu, Finland in 2004. After a couple of demo EPs of progressive black metal, ANTIPOPE released their first full length album Desert in 2010. In 2011, ANTIPOPE released highly acclaimed 2nd album, House of Harlot through Violent Journey Records, taking turn towards industrial and gothic metal. The third album, released in 2013 3 Eyes of Time presented more melodic, progressive heavy metal side of Antipope's music. Between 2013 and 2017 Antipope remained mostly in an inactive state, except a single release of Army of Christ in 2014. The release of Denial/Survival was heralded by publication of music video of "Water Below" in October 2017.
In addition to albums, ANTIPOPE has also produced a handful of music videos, which combine characteristic Finnish countryside images with macabre.
Denial/Survival is the 4th full-length album by Finnish progressive metal group ANTIPOPE. After four years hiatus, ANTIPOPE returns with their characteristic style of bending the genre boundaries and creating a unique musical journey in the spirit of classic prog albums of the 1970s. Musically, Denial/Survival combines elements of extreme metal, melodic death metal, and even a bit of flamenco, as it offers the music of ANTIPOPE in its most uncompromising form.
Denial/Survival
Music and lyrics by Mikko Myllykangas
Recorded, mixed and mastered between December 2013 and September 2017 in Torture Chamber 2 & Vile Pleasure studios by Juhani Rikberg
Produced by Antipope
Cover artwork by Tiina Kaakkuriniemi
ANTIPOPE line-up
Mikko Myllykangas – vocals, electric and acoustic guitars, bass guitar, programming
Antti J. Karjalainen – guitars
Tuska E. – drums