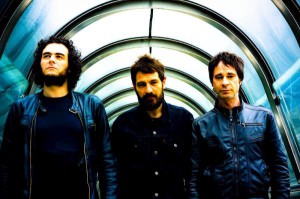 First, take a three-piece act, then add samples and space sounding keyboards : this is Antigone Project's sound. Powerful, dark, melodic, elegant rock. Antigone Project is a project founded by Frédéric BENMUSSA (lyricist, composer, singer and rhythm guitar player) with the addition of Emmanuel VENTRE on bass and Frédéric MONACO on drums (Mickey 3D, Swaat…)
Their first EP (released late 2014) was recorded at Studio La Frette and mixed at Studio de la Reine by Florent LIVET (Phénix) and Chab (Daft Punk). It delivers vocal surges, overloaded rhythmic parts, and electro arpeggios in the vein of bands like MUSE, RADIOHEAD, DEPECHE MODE and TOOL.
The band was offered to play the most prestigious venues : the Sentier des Halles, the Cabaret Sauvage, the Scène Bastille, the Machine du Moulin Rouge, the Alhambra and the Bataclan, as well as numerous festivals in France (Garorock, les Francofolies…) and abroad (Casablanca Festival, Razzmatazz…)
After the release of its first effort « Stellar Machine » in May 2017, the three-headed entity is back with the re-release of its sublime vinyl record « From Its Room », limited to 200 numbered copies.