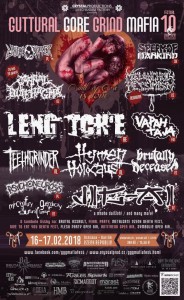 We celebrate 10 year and for this reason we make something very special! 2 days, 1 club, 18 bands from all Europe and 4 headliners!!! On GGGM #10 will play:
LENG TCH´E (Belgium), HYMEN HOLOCAUST (Holand), JIG-AI (Czech Republic), TEETHGRINDER (Holand) will play full standart sets! Very special show will play CARNAL DIAFRAGMA becouse this band celebrate 20 years on scene! And next very gig you can await from MELANCHOLY PESSIMISM (Czech Republic)! This death/grind legends will play first reunion concert after 6 years! Be ready on special set with songs from all albums!
At this moment are these bands confirm: PSYCHONEUROSIS (PL), SPERM OF MANKIND (SK), VAPAHTAJA (FIN), MINCING FURY AND G.C.O.Q.D., BRUTALLY DECEASED, UNBORN SUFFER (PL).
In great raffle you can win free tickets on BRUTAL ASSAULT, FEKAL PARTY, METAL CZECH DEATH FEST, NICE TO EAT YOU DEATH FEST, FLESH PARTY OPEN AIR, ANTINTREND OPEN AIR, SYMBOLIC FEST and many many more!
Presale ticket cost 15,50€ till 1.1.2018.
Actual info:
www.facebook.com/gggmafiafest
www.crystalprod.cz/gggmafiafest.html
Facebook event: www.facebook.com/events/113194262713091