ALL LIFE ENDS is a Death-Metal group from Switzerland, founded in late 2006 by Adam Subryt (drums) and David Oberthaler (vocals). Having perfected their own brand of intense and aggressive death metal, ALL LIFE ENDS spent most of their years destroying and blasting venues with their live shows. Connecting the experience of each band member has formed a strong, collaborative machine that is teeming with creativity and power.
After several changes of bandmembers ALL LIFE ENDS found the young and talented guitarist Claudio Dotta. The band decided in 2009 to enter the Cultrock Studios in Switzerland and record their first album consisting of six melodic death metal songs. "Of Sulphur And Suicide" has received positive feedback from various metal magazines from around the world.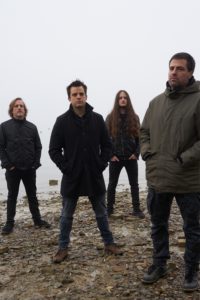 Before they could expand their dominance in the metal scene, most of the band members left, so the remaining had to cancel the planned shows. After new members were found, the band re-entered the Cultrock Studios to record 3 songs. These were published in form of the EP "Lightbringer" at the end of 2012. The songs were rougher and showed the more aggressive and raw side of the band.
At the end of 2012 Adam Subryt, drummer and one of the founding members, quit. A few years passed before the band could release their debut album. Comparatively many concerts were played. The band could also play some shows abroad in Italy, Germany, Austria and the Czech Republic. Again, there were renewed changes among the members. The band found stable colleagues in Thomas Zellweger on drums and Ramon Locher as guitarist.
The band finally decided to set up their own studio to record the songs themselves. After 2 years in the making, ALL LIFE ENDS released their debut album "The Plague Of Man" on April the 13th 2020 in full length.
The press feedback on the debut album was consistently positive. The unspent, raw aggressiveness, as well as the joy of playing are emphasized. It is also mentioned that it is precisely this uncompromisingness that ALL LIFE ENDS develop that is missed by the ancestors of the scene. Unfortunately, some concerts, including the record baptism and a tour with Requiem (CHE) and Perverse (POL) through Germany, the Czech Republic and Poland had to be canceled due to the Corona crisis. This was a major setback for the promotion of the new album. The band did not remain idle and spent a lot of time in their rehearsal room during the lockdown to write new songs for the follow-up to "The Plague Of Man". Having a slew of high profile supports under their belt – SODOM (GER), BELPHEGOR (AUT), ENSLAVED (FIN), Impaled Nazarene (FIN), Debauchery (GER), Sinister (NLD), Sybreed (CHE), Requiem (CHE) to name a few – ALL LIFE ENDS is ready to blast their songs into the metal scene.
Line-up 2021 (also recording line-up):
David Oberthaler – Vocals
Claudio Dotta – Guitars
Thomas Zellweger – Drums
Ramon Locher – Guitars