Interview: Octav Necrosis – Vocals
Hello from Czech republic! My first question is so easy. 🙂 Is there any meaning behind the name AKRAL NECROSIS? How would you define music of your band? Which influences is in?
Hails from RO! The meaning of our name comes from the bubonic plague, it's about the necrosis symptom of the extremities. However we use this a metaphor for the taint present on all human souls.
Can you tell us more about your older records? Compare the music of split CD with the first album "Pandemic Dominion". What did you expect from your first full-lenght album? Can you tell me any informations, differences, etc. about your records?
The split CD contains two of the tracks that we composed immediately after we finished with "Pandemic Dominion". You can view the split CD as a bridge between the two albums. Going back to "Pandemic Dominion" I would say that we achieved most of the things we set out to. We are not completely pleased with it, as we always consider things can be improved or done better.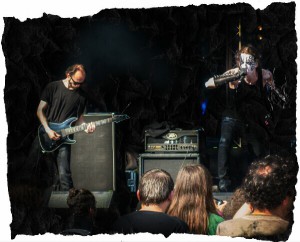 What convinced you to participate in split releases with MARCHOSIAS? Please, have you already got some responses to your split CD?
Our main idea for the split was to do a collaboration with another band from our country rather than just release an EP. We were getting along really good with MARCHOSIAS so that was it. Another thing was we wanted to work some more on the new album, but at the same time we didn't want to keep people waiting that long so the split comes as a bridge between "Pandemic Dominion" and the new LP. Most reviews were positive and the people who got it seemed to enjoy it. We had some good distro for it this time as we worked with Loud Rage Music, so the split managed to go to a lot of countries.
Can you tell me what the split album title (("Inter)section") means and how it relates to the themes and ideas in the music AKRAL NECROSIS and MARCHOSIAS ?
We used this name as a play on words: section is related to the severed heads on the cover while intersection is a reference to the split itself and the fact that we covered each others songs. Two bands, two severed heads on the cover. I can tell you two things, the "king" is ours and it's basically a major fuck off.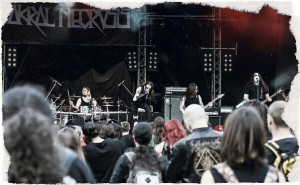 What are your lyrics in general about and who is responsible for them? Where do you find inspirations?
I handle the lyrics in general. I usually get inspired by books, nightmares sometimes and everyday things. The lyrics themselves are about many things- life, death, sin, metamorphosis on different levels, fanatism and so on. I always try to handle these themes from other points of view, not so much the classic ones. Some of them can be read on different levels to find other meanings, but I will not go to much into that.
How much is important image for you? What is black metal to you as a music style as well as an ideology?
Black metal came as a natural way for us to express ourselves. Some of us had experimented with death metal before we started AKRAL NECROSIS. However, for me, death metal was not enough. I didn't feel satisfied with playing the genre after some time and black metal was becoming more and more present within my choice in music. Image is an important part of the live show. You can view it as tradition. We use corpsepaint as a gateway to the mood that best suits our music. To answer to the last part of your question, I would not use the term ideology, because each one of as has his own method of understanding what black metal is. In my case, I can say that it bleeds into my everyday life as well. Black metal has shaped the way I am now and the way I see the world around me.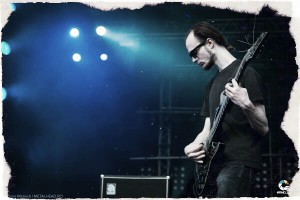 Have you in love Romanian nature? What do you think about industry revolution across the Romanian countryside?
I enjoy the Romanian countryside and nature, but I don't get to see it too often. I don't consider myself a nature guy because of this, I feel more connected with the urban concrete and the crowded streets. I guess this is strongly connected to our music, lyrics and most of it to the plague thing we have. About the industry revolution? I see it more as industry corruption with large woods being cut down for illegal profit. Destroy today, cause you ain't gonna be alive tomorrow. "
What can you tell us about the metal scene in Romania? Is there a strong metal scene just now?
Our scene is growing larger and better year after year. We have a lot of great bands in most genres that sound excellent and act very professional. But as any scene, we are also plagued by some problems. But I'd rather not focus too much on the bad sides of it. My only complaint is that there are very few bands who can bear the mantle of black metal in a way that shows respect to it.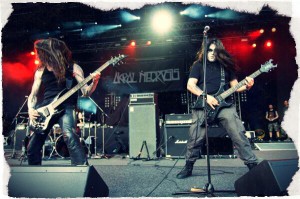 When I was in Romania, a lot of people said, that orthodox believe is a important for Romanian nation? Is it true? What do you think about religion in Romania?
The orthodox church has a very strong and malign presence in Romania. Religion should not be mixed with politics as it is in our country. We came close to ban religious education from schools, but they won in the end and they are very close to banning health and sexual education. The orthodox church is very powerful and you could say they brainwash people easily here. Some days I get the impression we are heading back to the Dark Ages when I see the manner some people think. It bothers me because this leads to the most hypocritical things I ever got to see.
Who are you listening to now? Any new bands you feel Rumzine readers should give try?
I listen to a ton of new bands. I'll mention a few from Romania: BLOODWAY, SADDAYAH, DAMAGE CASE.
What's the next step for AKRAL NECROSIS? Have you written any new material to feature on the next (regular) album?
At this exact moment the new album is almost fully recorded… the drums are all done, the guitars as well. So the answer is yes and the new album will come out this autumn. You can expect 9 uncompromising songs.
Would you like to say something to your fans or readers of Rumzine? Best regards… and good luck!
Thank you for sending these questions, I enjoyed answering. For fans or readers? Keep in touch through our official FB page and look out for the new album if unrelenting black metal is your thing.
ALL
https://www.facebook.com/pages/Akral-Necrosis/131156943575470