Atmospheric fantasy metal project "Tales from the lands of Aegonia" consists of music and fantasy novels.
Interview: Elitsa Stoyanova – Vocals, Violin
Last year you released the album "The Forgotten Song", which is your first important milestone on your musical journey. Tell us something about your history and introduce us to your band.
At first the band started as an acoustic instrumental project of Niki (guitar, vocals, kaval) and me (violin, vocals). We started by playing short improvisations with violin and guitar. I remember that the first instrumental we came up with was "Restless Mind" – at that time we called it "Gothic". Soon we decided to add vocal lines and lyrics to the songs. The first lyrics we wrote were mostly improvisation and we were very surprised to find out that they were connected to each other and were telling us a fantasy story about a sorceress named Endoriel and a magical world, which we called AEGONIA.
We quickly wrote 12 songs for an album and started rehearsing with bass player Nasko and drummer Rosen. Writing the songs was quick, but then it took us a very long time to arrange them to the point when we could say that we are finally satisfied with how they sound. We had a lot to learn, but this was a very interesting and very developing process. Creating AEGONIA and working on the band's music is one of the most interesting things I have done in my life. With time some of the band members changed – we are currently playing with Ivan on drums (plays on Samodiva and "Of Love and Hate"), Lushko on bass and Ani as a second guitar. Right now we are working on our upcoming album and also on something very interesting –acoustic versions of the songs with classical instruments: bassoon played by Sabina, oboe played by Kosio and bodran played by Milena. We always liked classical music and especially baroque and our desire is to compose new songs in that direction.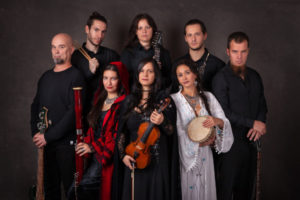 As a band, you did the whole album yourself. What feedback did you get on you?
Yes, we did most of the work ourselves. We also got help from our friend and sound engineer Simo, who participated in the recording of drums and some of the guitars. Also, the mix and mastering was done by our guitarist/vocalist Niki with the help of Georgi Latev from Ghost Warfare, who was very kind to share his knowledge with us. We got very positive feedback. We wanted to create something very melodical and magical, and I hope we managed to do that. I think people can really feel the love and passion we put in this album.
The lyrics are songs from the fantasy novel "The Forgotten Song", which you wrote under the stage name Nea Stand. Briefly introduce us to what the novel is about.
The story told in our fantasy novel came out from the lyrics of the songs that we wrote. I don't feel that I am the writer of the story, but more like the person who somehow knew about it and wrote it down. I feel like I was the first reader of the story. It feels like a tale or a legend. The storyline starts in a small village, which is befallen by big problems – the sun does not rise and not a single drop of rain falls either. Rivers begin to dry up and the trees wither. The villagers start looking for a solution, and thus they are forced to face the scariest sorceress from their folklore – Endoriel – in the search of a magical stone, which is believed to have the power to bring back the sun and rain to the world. In the course of the story they find out that the past of their foremothers and fathers is not what they think it is… Anyone who wants to read more can find the ebook "The Forgotten Song" translated to English on our website.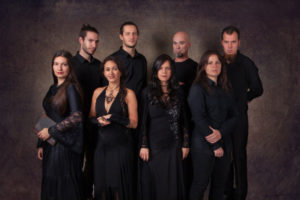 You have made two folk music videos, which take place in the beautiful Bulgarian nature, which follow each other as one story. Tell us more about the videos.
With these videos we wanted to show the beauty of Bulgarian nature and folklore. All the items we used to shoot "The Maid and the Mountain" and "Samodiva" are authentic. We worked with a very good team of professionals that shot the video. They gave 100% of themselves. We shot "The Maid and the Mountain" in the Eastern Rhodopi region, where I was born and grew up as a kid. We found an abandoned village of authentic houses, where some of the footage was shot. We got up at 3 in the morning to get to a distant peak before sunrise. We shivered with cold in the mornings, drove and walked for hours, climbed mountains, worked day and night to make this all happen. For the winter footage we stayed bare feet in the snow. It was all a very interesting experience! "Samodiva" was shot at the Krushuna waterfalls, also a very beautiful place, but it was summer and there were no extreme weather conditions in that day.
What makes Bulgarian folklore typical?
Typical for the musical folklore are the uneven rhythms and the special way that women tighten their throat when they sing. The clothes are also unique, with beautiful embroidery.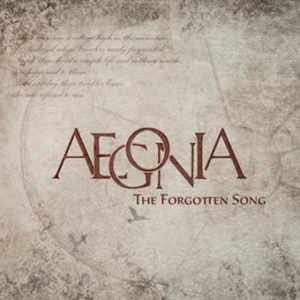 What are your favorite bands, writers, books and movies?
Lately I mostly listen to TREES OF ETERNITY and KATATONIA. I also like a lot DEMENTIFY, DIMMU BORGIR, CHARM DESIGNER. My favourite fantasy series is "The Wheel of Time" by Robert Jordan – I remember when I read the first book, years ago, I was blown away by the enormous imagination of the writer and the great ideas in this novel. Before that I had never imagined a book can be so interesting! It was like a blast of pure magic for me. Movies – I would say The Lord of the Rings. I also admire the storyline and acting of Game of Thrones, but it has too much violence for my taste – something typical for movies in the last years, which I don't appreciate.
What comes to your mind when you say the Czech Republic (except for beer Staropramen, which is on almost every corner in Bulgaria)? Do you know a Czech band, for example?
I admire the architecture of Czech villages, small towns and castles. This is something that can really inspire me and I find them very beautiful. Regarding bands – right now I can think of SILENT STREAM OF GODLESS ELEGY, which you introduced to me.
I try in vain to equip a Bulgarian metal band. What is the metal scene like in Bulgaria? Will you give us recommendations for any other bands?
We have good metal bands in Bulgaria, but unfortunately it seems to be very difficult to get popular abroad. You might find it interesting to check out – Koev's Pagliacci (https://www.facebook.com/pagliacciproject) (international metal opera project, the composer is from Bulgaria), DEMENTIFY (doom metal), ODD CREW, VELIAN (dark metal).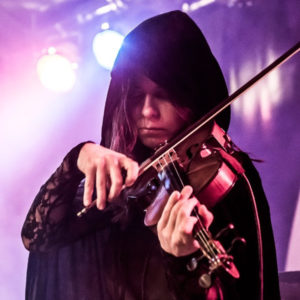 How many concerts do you have on your account? Which was your best? Fantasy offers many options for shows on stage. What can a visitor to your events look forward to?
We don't play many concerts, maybe around 10 (acoustic and electric) per year (this year is an exception and they are even fewer). It is hard to choose a best one – I have very special memories from all of them. I love playing music and being on stage. The stage can become very mystical and beautiful with candles and mist. We also wear special clothes on stage – sometimes gothic, sometimes more warrior like – depends on the show.
I know you love nature and I know that Bulgaria has beautiful nature (I was there on vacation this year). Which places in Bulgaria would you recommend to visit and why?
If you like high mountains I would recommend Rila and Pirin. You might also check out the Rhodopi mountain, which is my favourite. I always get a very special feeling when I visit it. We don't have many castles and fortresses in Bulgaria, but we have ancient ruins like Ustra and Perperikon. Interesting places to visit are the Belogradchik rocks (this is a great place to visit if you like fortresses and rocks), the Devil's bridge (some of the footage in "The Maid and the Mountain" was shot there), Krushuna waterfalls (a popular one, visited by quite many people during the weekends, but to me it is one of the most beautiful places I've seen), Prohodna cave (it has huge holes facing the sky on its ceiling, which look like eyes, which is why it is also called "the eyes of god"), the Wonder bridges in the Rhodopi mountain and many others.
Plans and dreams for the future? CD The River of Memories? Or a purely folk metal CD? Video clip?
Yes, a new album is coming up next year, we are working on it. Also a new folklore single, which I hope will be ready by the end of the year. This year we won funding from the Bulgarian Cultural Fund to shoot a video for our song "Of Love and Hate". We already started the preparation process for it, it tends to be quite challenging and interesting and we are very excited about it. We will be working with the same team that shot "The Maid and the Mountain" and "Samodiva". It should be out on 15 April 2021. Recently we met two wonderful musicians – Sabina Yordanova and Konstantin Kozhuharov, who play the bassoon and oboe in various classical formations and orchestras all over the world. Luckily, they are fans of our music, so we decided to make versions of many of our songs together.
Thank you for answering my questions. Any words at the end?
Thank you very much for the interesting questions! Keep supporting the underground!
Libor