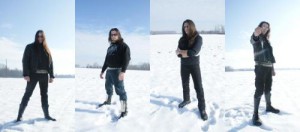 The southern French project AD HOMINEM was created in 1998 by Kaiser W., whose intention was to defy the current Black Metal standards. Two demos and four years later, the first full-length Planet Zog – The End (2002) was released and proclaimed AD HOMINEM as one of the most extreme Black Metal bands coming out of France, by combining provocative lyrics with thrashy martial vibes.
The following year, the album A New Race For A New World (2003) came out through the German label Undercover records – this time with a session drummer – and confirmed the band's notoriety.The success of this second opus caught the attention of bigger labels, and three 7" splits later, Kaiser W.contracted with Avantgarde Music to release what would be a major turn in AD HOMINEM's discography: Climax Of Hatred (2005). The Italian label also released the MCD Theory:0 which proposed the only official video clip of the band so far.
Then Dictator – A Monument Of Glory saw the light in 2009 through the controversial label Darker Than Black records. From that point, Kaiser W. raised a solid lineup and AD HOMINEM became vigorously active on stage. After a long silence, a MCD containing remixed songs from Dictator… by Greek EBM project PREEMPTIVE STRIKE 0.1 was unleashed by Darker Than Black. Slaves Of God To The Gallows (2013) is so far the last attack of the French entity, who is preparing its 5th full length, Antitheist, which is already planned for 2015 through Osmose Productions.