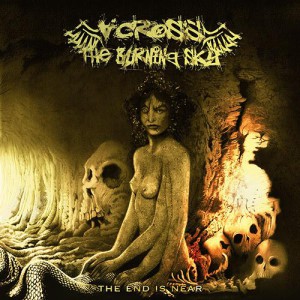 The Nordic melodic death metallers Across The Burning Sky will release their long-awaited album "The End Is Near" 28 October at MDD Records! Now there is also an album trailer on the MDD Youtube Channel, which for the first time for over 2 years provides insight into the musical work of the band and contains sounds from the album! In this context, even the cover artwork was unveiled on which Kali, according to the album title, awaits the approaching end as the goddess of death, destruction, but also of renewal.
The artwork was realized by the german airbrush artist from brushnroll.de. The band, whose personal background and origin still is not closer known, has the album largely self-recorded and produced.
The album will contain final 11 tracks. For the atmospheric In/Outro the Soundtrack Composer Darren Curtis from Maryland is responsible. On the other 9 songs the still anonymous musicians celebrate finest melodic death metal with the feeling from the early days of the genre in the mid-nineties. The mastering was refined by Pluto Neuber in MegaWimpSound Studio (PRIMORDIAL, NECROPHOBIC, WAR FROM A HARLOTS MOUTH, AETERNUS, BLOOD RED THRONE).