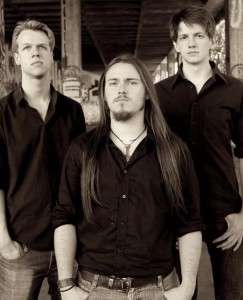 ABANDONED DREAMS stand for atmospheric and hard sounds and deep melancholy. Formed in 2009 by Raphael, Mike and Liesa in Grafing near Munich, Germany it took until the April of 2011 that a member on the Guitar was found in Nik.
In the following October the Demo-EP "Ember and Frost" was published. Though being self produced and distributed, the CD got good reviews and is sold out by now. With new material, which was partly written in Norway, the first full-length album "Isolation & Solitude" was released in November of 2013.
On the way many concerts were played and support shows were done for bands like AGALLOCH, NEGURA BUNGET and FEN. After the release of the album, Liesa left the band due to personal reasons. Moving on as a trio, ABANDONED DREAMS changed the sound a bit and Raphael continued on Bass and most of the vocals are now sung clean.
The new EP "Home" which contains three songs and more than 25 minutes of melancholy was published in April 2015 on the Dark Easter Metal Meeting (ENDSTILLE, PRIMORDIAL, AHAB, URFAUST,…) and gained very good critics. ABANDONED DREAMS are now playing shows and currently working on a new EP which will be released in late 2015.
BAND:
Raphael Schütze, Bass/Vocals/Songs
Michael Mauder, Drums
Niklas Kopp, Guitars