About A Colossal Weekend:
A Colossal Weekend 2022 takes place at and around VEGA in the heart of Copenhagen from May 19-22, 2022 and this year will be the 6th edition. Earlier editions have counted acts such as Cult of Luna, Pelican, Deafheaven, Anna Von Hausswolff, Alcest and Godspeed You! Black Emperor. The concept of the festival is quite simple; to be a facilitated gathering place for music nerds, metalheads and curious souls with a soft spot for dark, experimental and atmospheric music.
A Colossal Weekend is a collaboration between well renowned venue VEGA in Copenhagen and the booking agency Colossal as they both discovered a common goal and ambition in presenting visionary acts of high quality within genres that many might not be too familiar with. Genres such as post-rock, post-metal, math, doom, sludge and black metal are solid ingredients in the program, however detours throughout other genres such jazz, techno and neo classical can also be expected.
The lineup is built up around a handful of well-known acts who represents specific tendencies and sounds within their domain, accompanied by a substantial amount of strictly curated underground acts, who altogether underlines, challenges and explores the infinite borderlands of alternative gloomy music. This year, A Colossal Weekend takes place over three days on May 19th-21st 2022 with a lineup of 40 acts at 4 different stages.
A Colossal Weekend is realized with funding and support from Statens Kunstfond, Vesterbro Lokaludvalg, Liveurope, DIT:KBH and Tuborg.
Tickets can be purchased HERE.
The Copenhagen based festival A Colossal Weekend, which embraces the sombre and experimental part of rock music, now adds six more bands for their massive 2022 edition taking place on May 19th-21st at VEGA and the Vesterbro city area. While COVID still rages around the globe, organizers are confident that in May, Copenhagen has been freed from restrictions and that bands and audiences can dive into endless gloom and heavy music together. The newly added bands are:
ASTODAN (BE)
Astodan's music revolves around ancient burial chambers. On their second album, Bathala, they take inspiration from the Tagalog tribe (the Philippines), who would bury their dead in upright position. Astodan's musical ambitions shine through their rich, atmospheric rock compositions. The immersive soundscapes and affecting melodies and riffing of Bathala, released right at the COVID19-lockdown in 2020, will finally hit a live audience in Denmark!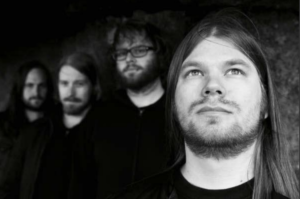 MOLOKEN (SE)
Moloken is from Umeå, Northern Sweden, they worship music, and the music they perform – an experimental fusion of various extreme metal genres – expresses feelings in a tone that speaks directly to the heart of those who truly listen. Moloken, in Swedish, means depressive, 'gloomy' or 'somber'. The music is 'moody' as well as menacingly heavy, and as hearsay has it, the sonic stains do not wash off that easily. The band has played together for 15 years and bring their killer-album Unveilance of Dark Matter (2020).
pg.lost (SE)
Swedish band pg.lost makes music that comment on the increasingly polarized and dehumanizing society, making it to the top of the mountain, howling and intimidating. The means for addressing this musically are equal doses of melodic melancholy and dirty, crushingly rock music. The title of their new album is Versus, as in either pairing what at first seems to be irreconcilable entities, or as in straight up opposing dehumanization.
RANGERS (US)
Ranges sits at the front row in the post-rock class. They explore the widths in the powerful post-rock instrumentation while letting the idea of subdued ambient soundscapes interfere and intertwine in their impressive work, and no less on their new album, Cardinal Winds (2021), which is some of the finest post-rock compositions in the scene at the moment.. Ranges are said to spellbind their live audiences. We are aching to be spellbound.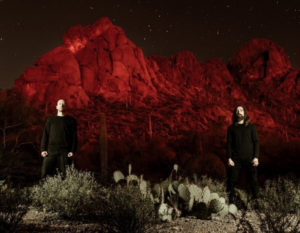 SPIRIT ADRIFT (US)
For multi-instrumentalist Nate Garrett, Spirt Adrift has become a mission onto itself, a quest to recast the power and potential of melodic metal and hard rock music. Bringing to mind legacies such as Ozzy Osborne and Metallica, Spirit Adrift is on the road cementing their own place in the metal music pantheon. Masters of their metallic game, they are the torchbearers of a new generation of headbangers, heshers and heavy metal parking lot overlords. Cheers!
THIS GIFT IS A CURSE (SE)
Passionately demonstrating that black metal remains fertile ground for new sounds, This Gift Is a Curse vomit forth a steady stream of venomous hate. Their third album, A Throne of Ash, sets a new benchmark for vitriol outbursts and sonic onslaught, as elements of hardcore, sludge, doom and occult black metal combine. Fasten the seat belt on the throne made out of poisoned blood, dying flesh, and dark ashes from the charred once-human cadaver, and let your ear follow the sound onto both physical and astral planes alike.
The final band announcement is on February 4th. The line-up for A Colossal Weekend 2022 so far is:
Aidan Baker w/ Nadja (CA), Aiming For Enrike (NO), Astodan (BE), Conjurer (UK), DEAFKIDS (BRA), El Ten Eleven (US), Helms Alee (US), Intechnicolour (UK), Moloken (SE), Møl (DK), neànder (DE), Oranssi Pazuzu (FI), pg.lost (SE), Psychonaut (BE), Ranges (US), Russian Circles (US), Saver (NO), Spirit Adrift (US), Sturle Dagsland (NO), This Gift is A Curse (SE), Vi Som Älskade Varandra Så Mycket (SE), We Stood Like Kings (BE), Yob (US)