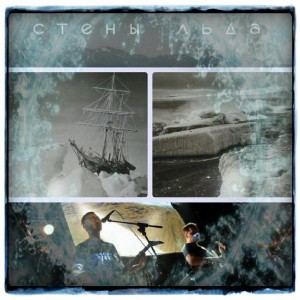 Interview: Andrey Leshchenkov – Guitars, Yuri Kononov – Guitars, Vocals, Andrey Kazhevich – Keyboards
Andrey, thank you very much for this interview! Can you introduce yourself and the band to our readers?
Andrey Leshchenkov: Hello, Aleš! Thank you for your interest. My name's Andrey Leshchenkov and I'm playing guitar in a band STENY LDA. We are from Moscow and we've been playing for almost ten years now. STENY LDA recorded two albums and the first one can be described as a typical post-metal album but the second one is more atmospheric and experimental. Besides me the band also includes: Andrey Kazhevich (synths), Pavel Gorshkov (bass) and Yuri Kononov (guitars, vocals). I think it would be right if some of your questions will be answered by them personally.
Стены Льда (STENY LDA) is really beautiful title for band? From where the name? What is the idea behind the name?
Andrey Leshchenkov: Some time since the founding of the band, we did not have any particular name. Later our first drummer Sergey Yantsevich proposed «STENY LDA» as the title for the band, which was taken from the lyrics of one of our songs. For the first live performance, we have no other option but to «STENY LDA», so we decided to play under this name, and in the future we decided not to change it. I think that our second album «White Silence» is more than the first one reflects compliance with the musical component, the visual design of the album and the title of the band, namely the emphasis in the work on the whole due to the winter, permafrost, ice, etc.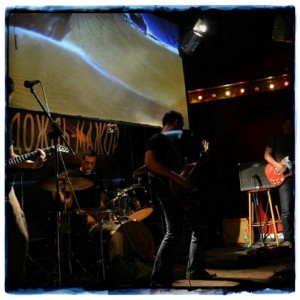 What do you think about music of Стены льда? Easy listening or not? Are you satisfied with the way "Белое безмолвие" ("White Silence") was received?
Andrey Leshchenkov: I don't think that STENY LDA's music is difficult to understand. In our last album we focused on creating dark melodic passages which represents the atmosphere of winter as we feel it, with simple structure of songs and without any brutal or dissonant parts.
I am completely satisfied with the result of «White Silence» and, for example, if it compares with «Self-titled» first album, I think that the second one is a step forward for the band.
I admire the artwork of the last album, can you tell us more about it? How important is artwork for you?
Andrey Leshchenkov: Thank you. The album artwork features selected pictures of polar expeditions of Robert Scott. As you may known, his last expedition ended tragically, so we decided that the selection of these photos and the whole dark atmosphere of music that we tried to create, should cause a grim, gloomy and depressed mood in the listener.
Are you fascinated with all things dark and cold? Can you introduce atmosphere of Moscow winter? Is it popular time for your inspiration?
Yuri Koronov: I think that metal music (doom, death, black) is mainly and probably only about darkness, coldness, solitude and sorrow and ideally it has nothing to do with joy, gladness and fun.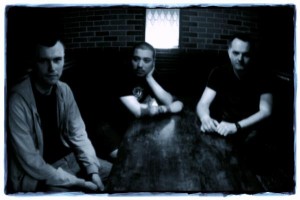 Andrey Kazhevich: The winter in Moscow is almost same to many other megacities in the same geographic coordinates. To face the real Russian winter you have to dress warmly and drive 50-100 km outside. Then, somewhere in the field or at the edge of a wood, in an absolute silence, you may feel the power of cold and see endless expances of snowy surface. In our region the winter always continues almost half a year. It is normal that many people of arts (including us) were inspired and impressed about it for many centuries.
Those bands must be your major influences?
Andrey Leshchenkov: WOODS OF DESOLATION, DRUDKH, EARTH.
Andrey Kazhevich: As for me I was influenced by ambient/dark ambient/shoegaze/drone artists who is following different thematics such as cosmic/afterlife/minimalistic/ etc. (OM, NADYA, STELLARDRONE, CARBONE BASED LIFEFORMS.
Yuri Koronov: BLAZEBIRTH HALL, THE PAGAN FRONT, TTF.
What's your favorite record of all time and why? Is it tricky question for you?
Andrey Leshchenkov: PEARL JAM «No Code», JOY DIVISION.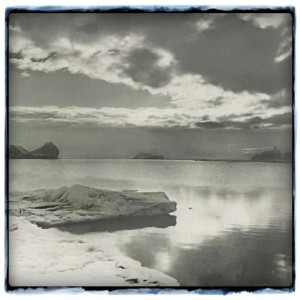 Andrey Kazhevich: Really hard to say but I think there are two the most important records for me, they are: CHAMELEONS – Script of the Bridge (1985) and KILLING JOKE – Brighter Than a Thousand Suns (1986). Besides, the mentioned albums contain a model of harmony and a great arrangement of each song.
Yuri Koronov: NIRVANA «In Utero» (1994) and ALICE IN CHAINS «Self Titled» (1995) because of nostalgia for the days of youth. Since these bands split-up I can characterize the modern state of rock music as a stagnation and a lack of new ideas.
What about the Russian scene, how's metal life over there?
Yuri Koronov: I do not follow what is happening in Russian Post Metal, Doom Metal and Death Metal scene because I have no interest in it. I like some Black Metal bands from Russia, especially KRAHNHOLM and COTARD DELUSION.
How does a band like Стены Льда survive in the overfull and evolving music world? Can you introduce your ambitions?
Andrey Leshchenkov: We don't think about it. The important thing for us is to create music that we like and that we want to play.
Are you fan of doom metal? Doom metal scene in Moscow looks like very strong! Are you collaborate with other bands?
Yuri Koronov: No, I am not a fan of Doom Metal. But I love some bands with Doom influences such as SWITCHBLADE from Sweden, AMORT from USA and OLD SEA AND MOTHER SERPENT from Russia.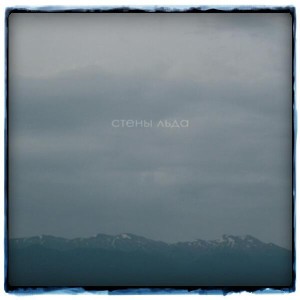 How difficult is it to combine family life with your musical career? How important is art for you?
Andrey Leshchenkov: In general, the musical activity does not interfere with my family and it finds a fairly strong support. But in everyday life, we devote much time to the main work, so it is difficult to allocate the desired time for music.
Andrey, can you tell me something about your concerts? Can you tell us about special places you have played?
Andrey Kazhevich: Once we have played in the forest in the nighttime, between two electronic dj-sets and it was extremely interesting experience. The sound was very unusual because of open air around the scene, the trees were illuminated by lamps and in general it was very beautiful and cool.
What does the future hold? What are your immediate plans?
Andrey Leshchenkov: We have plans to finish and release our third album.
Do you know something about metal scene in Czech republic?
Yuri Koronov: My favorite band from Czech Republic is TRIST from Olomouc, and also I like some Black Metal bands such as MASTER'S HAMMER, CULT OF FIRE and HOLOMRAZ. Some years ago I liked band THEMA ELEVEN. I even rememebered about another band KORIUM not from Czech Republic, but from Slovakia, some of their albums are great.
Please, your last words… Maybe a special message to our readers could be…
Andrey Leshchenkov: Thanks for the interview! All who are interested can listen to us on our bandcamp page.
ALL