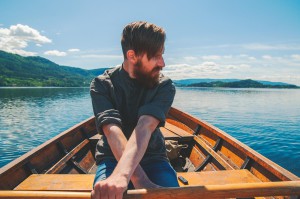 Interview: Lars Jensen (everything)
Hello Lars! Welcome after ten years!! How are you today? How has your life changed over the years?
I'm all for honesty, so I'm going to go ahead and say that there are both good and bad things going in life at the moment. On one hand I'm really happy to finally have a new MYRKGRAV album out and that my shoemaking business is taking off. But on the other hand, I still struggle a lot with depression and anxiety, so it's quite a multifaceted affair to go through life. I will say that my life has changed an enormous amount over the past few years. I went from being a musician and sound engineer at a revered recording studio to working in accounting, then moving to Finland and studying folklore and ethnology at Åbo Akademi university, before settling on making shoes right now. I tend to jump from subject to subject of interest and try to keep evolving and achieving personal growth.
Why so pause in the last years? Yes, a lot of small singles, but… What was the reason you decided to continue with MYRKGRAV?
Like mentioned above, I've been struggling with mental health issues for several years now, which was a real inspiration killer. After being in the business a few years prior and being completely screwed over by my old record label, I also couldn't release anything new until 2012 because Myrkgrav was tied up in a contract with a label that had gone corrupt. At the time the contract ran out I had a lot of other stuff going on in my life, but all the instrumental material for the second album was already written by 2010. So this summer I finally ran into a bout of inspiration to finalize the rest of the songs and record vocals for the songs that I had lyrics for, which turned into the Takk og farvel; tida er blitt ei annen album. Regrettably I could never finish vocal arrangements and recordings for some of the songs, which accounts for the numerous instrumental songs on the album. Still, they have such a multitude of interesting guitar leads and such going on that I personally don't feel like they sound unfinished. Continue reading →