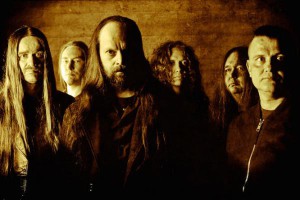 Interview: Henri Koivula – Vocals
I would like to ask first something about the past… THROES OF DAWN was born in 1994 in Finland. How it all began? What were your feelings when you released your very first album? Are you sentimental when you thinking about older times?
We were a bunch of young metalheads who were all heavily into death and black metal. Originally THROES OF DAWN was formed when we combined two bands together. It was kind of magical period when there was so much time at hand. Everything seemed possible. I don´t want to look too much into the past, because in a way that picture is distorted. Only the good memories remain. But I have to say that I feel very fortunate that we have had this band alive for so long, it has given me so much content and meaning in life.
Do you guys follow today's scene? If so, what's your opinion on the scene now and what do you consider the main differences? If you look back to the past do you see any major differences between the fans from back then and the ones from our days?
When we started it was all very underground. There was tape trading and shitty self edited magazines, there was no other source of information really. I think it made it all very fascinating, because it was all so underground and hidden from the public. Nowadays everything is available very fast and there are plethora of bands out there. It has become serious business. I don´t follow the metal or any other scene actively. I might check some new albums from my favourite bands, but that´s it. I haven´t noticed any difference in the fan culture. Continue reading →