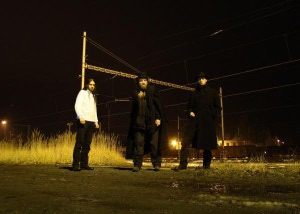 MFL recodrs statement – "Sfumato" is the principle of diffusion and softening of the outline of figures and objects, invented by Leonardo. As if following a treatise on light and shadows, the music in the second album of Czech avant-gardists QUERCUS has no clear logical boundaries. It is blurred, like the boundary between life and death, one permeates another. This music is now lifeless, now breathing, now suddenly awakening imagination…"
Interestingly. So we have some question for funeral doom band QUERCUS. Please a short bio for your band.
We started to record first demo in 2001/02, we were two man project just for recording and until now we don't plan any live show. QUERCUS rises from the underground of our main band UMBRTKA, sometime QUERCUS sleeps and sometime wakes  up when the grief grows stronger.
Where do you have the name QUERCUS from…?
I think that latin is good for doom so I put the name of my favourite tree into the name of our doom.
When did you start playing and how old were you when you became interested in metal?
I started to play guitar and drums when I was 20 composing music for a second Umbrtka album "Delnický a bezdomovecký šedý metal".I listend to metal maybe from 10 or 12 years… MEGADETH, METALLICA, BLIND GUARDIAN, MY DYING BRIDE, ANATHEMA etc. Continue reading →