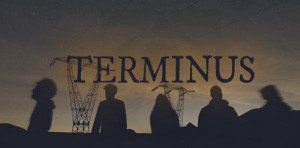 WOOAAARGH is pleased to announce that it will release Terminus, the new album by Italian progressive/post-death metal band WHILE SUN ENDS. The tracks on the album cross the sound-spectrum and combine beautiful female vocals with death metal growls. While the album does span across a number of genres, the sound is quite similar in style to bands such as KATATONIA, OPETH, ISIS and IHSAHN. Terminus is the first album to feature new singer Stefania Torino and will be released on August 26 2016.
Terminus is the second full-length album by While Sun Ends. It contains 8 tracks written between 2012 and 2015 The album was mixed by Riccardo Paso Pasini (EPHEL DUATH, HANDFUL OF HATE, BLINDEAD, SUNPOCRISY…) at Studio73 (Ravenna Italy) and mastered by Collin Jordan (VOIVOD,PELICAN, EYEHATEGOD, MINISTRY) at Boiler Room Studio (Chicago).
This work is a journey through knowledge, an act which builds cyclic ties with contacts, experiences and memory. Thrown into existence and experiencing detachment, we realize that we are not alone, therefore, we find a measure to judge and love all that is around us, learning to tell what belongs to us from what doesn't. As our point of view is unique and not universal, we acknowledge that we can't reach ultimate knowledge, but only a personal concept of reality, through which consciousness flows. That's how we fit in the scheme of our society, which is the sum of all individualities and the place where perspectives collide and merge. In the end, the recollection of what has been, makes us realize that our achievements in life are our actual starting points.
Terminus was chosen for the album title as this is the first album with the current members.The word also means destination. In other words, the concept of this album is that somehow, departure and arrival match one another.
https://www.facebook.com/whilesunends
WHILE SUN ENDS is:
Stefania Torino – Vocals & Flute
Massimo Tedeschi – Guitars
Diego Marchesi – Guitars & Vocals
Carlo Leone – Bass, Vocals & EFX
Enrico Brugali – Drums