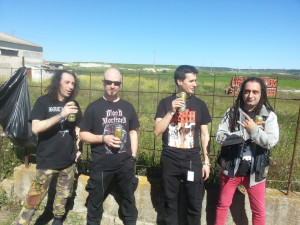 Spanish old school death metallers MASS BURIAL have released their sophomore album "Soul's Necrosis" during the weekend.
The recording sessions were started in the Summer of 2013 but after listening to the final outcome the band was displeased and decided to record it from scratch again. "Soul's Necrosis", which was released by Pathologically Explicit Recordings, is an ode to the rotten death metal that will be appreciated by fans of ENTOMBED, GRAVE and DISMEMBER.
In the meantime, MASS BURIAL have also announced that they will take the album for some road action during the summer, with an already confirmed slot on a Portuguese Festival which will take place in September.