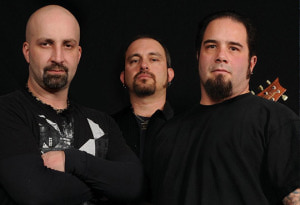 A wise person once said, "the only constant in this world is change," and after releasing two albums, Beyond Tomorrow (Majesphere) and Reigning Memories (Majesphere/ Now&Then UK), the members of ION VEIN, were faced with one of the biggest changes of their career in 2006; the search for a new vocalist.
The self-titled third album from Chicago-based metallers ION VEIN is now available via Mortal Music/MVD Audio in both CD and digital formats, but the journey to get there has been anything but predictable.
The long awaited follow up to 2003's Reigning Memories was once again produced, recorded, and mixed by Neil Kernon (JUDAS PRIEST, NEVERMORE, NILE) and is the first full length album with vocalist Scott Featherstone, whom the band first debuted on the IV v1.0 and IV v2.0 three song digital EPs, after partnering with Chicago based Mortal Music, released in September 2011 and December 2012 respectively. Additionally, the six songs from those EPs have been re-mixed/re-mastered for inclusion on the full length.
ION VEIN's self-titled new album featuring 12 songs varying in dynamic intensity shows the band re-tooled, re-focused and re-energized in a way that captures the essence of their song-oriented and technically-skilled metal intensity. Also, the top notch production drives these pounding, meaty canvases, from the opening track "Fools Parade" to the closer "Twist of Fate" that cut into the very core of your soul, while breathing new life into today's world of music so crank it up and enjoy!
Line-up:
Scott Featherstone – vocals
Chris Lotesto – guitar
Chuck White – drums
Brian Gordon – bass (studio)