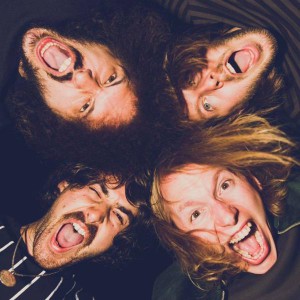 2016 was a good year for EVERYDAY CIRCUS. Their debut "Mirrors" saw the light of day, they played two tours on their own throughout Europe and were invited to their first UK Tour by Tracer.
How's 2017 gonna look like?
The answer was given by the songs. They were casually writing towards album Nr. 2 and suddenly there were these three pieces. Without having been planned, they told one story. The big picture. Do they build an album around it or do they set it free? Withdraw themselves or keep at it?
Song by song is the design for 2017 and thus "Golden" comes as the beginning of a trilogy. "For us, the most important thing is to stay optimistic. It's a never-ending struggle. In your immediate environment and on the rest of the planet there's much going awry. Nevertheless, we always try to push back. That's what 'Golden' is all about", says lead singer Matteo Schwanengel.
Here are the upcoming dates:
29.08. Luxembourg, Rocas
30.08. Trier, Lucky`s Luke
31.08. Zürich, Dynamo Werk 21
01.09. Stuttgart, Kellerklub
02.09. München, Cord Club
06.09. Graz, Club Wakuum
07.09. Wien, Kramladen
08.09. Dresden, Katy`s Garage
13.09. Berlin, Humboldthain Club
14.09. Hamburg, Bar 227
15.09. Köln, Tsunami Club
16.09. Maastricht, D´N Hiemel
04.11. Hannover, I Think Spider Festival