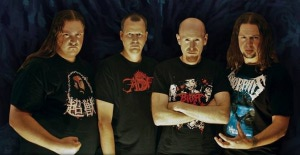 Blast Head Records will be releasing the 2nd album entitled 'Order of the Enslaved' from the Canadian death metal band HATE DIVISION on July 8th, 2014. This will mark the first release on Blast Head Records from a Canadian band so this is a very significant moment for the label.
The sophomore album from the Canadian purveyors of death metal delivers in everyway possible! 'Order of the Enslaved' is a huge leap forward in song writing, production and showcases the bands ability to seamlessly incorporate a variety of styles into their definition of extreme music! The album artwork was brought to life by Ken Sarafin of Sarafin Concepts. Ken has done amazing covers for bands like ARCHSPIRE, THE KENNEDY VEIL and ETERNIUM, but his work for 'Order of the Enslaved' is by far his best to date!
"During the writing process, we really tried to expand our sound and add new elements that you would have never heard on our earlier recordings. 'The Divine Reward' was the first song we wrote for the new album. It's one of the slower and heavier tracks on the album. It truly showcases our development as a band so we thought it would be a great first taste for everyone. Hope you all enjoy!!" comments Shane Forsyth, drummer for HATE DIVISION. For fans of ORIGIN, DYING FETUS and MAN MUST DIE!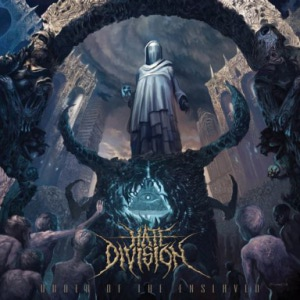 Track List for 'Order of the Enslaved'
1. Peace.Tranquility.Subsequent.Deception
2. The Divine Reward
3. A Controlled Extinction
4. Pornography of War
5. World Descending
6. Creatures of the Grid
7. Dawn of Quiescence
8. The Final Exhalation
9. Stricken
10. The God Species
11. Medicated
12. Global Autopsy
13. Order of the Enslaved
Line Up:
Sean Wyszynski – Vocals
Howard Young – Guitar
Paul Shaw – Bass
Shane Forsyth – Drums
http://www.blastheadrecords.bandcamp.com