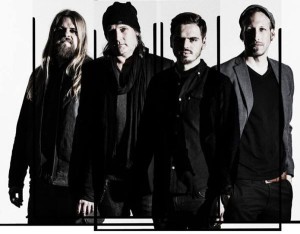 Interview: Thomas Baumgartner – Guitars, Vocals
Hello! Let's start with classic question: how's been your "music year" so far?
Well, we had a really great 2017. Our debut album "Element" came out last May, we received a lot of great reviews from all over the world, we played shows all around Europe. Overall we had a blast. And we won't calm down in 2018. We already wrote some new songs and are planing to enter the studio in april. We're not sure yet if we're going to release an EP or full album, we'll see. But before that we will play some shows in Germany and Switzerland.
Can you tell us a little bit about the start of NEO NOIRE? How it all came together? How long have you known each other?
I know Fredy for many years. For a short time he even played guitar in my old band UNDERGOD. But this was a long time ago. And even when we went in different directions with our bands we never lost contact and stayed close friends for over a decade. In 2014 he moved in at my place when he had no place to stay. We were sharing riffs at the kitchen table and wrote some songs together, just for fun. But soon we recognized, that we liked very much what we did by just fooling around musically with each other and this was the start of NEO NOIRE. We decided to get the best musicians and coolest dudes in town to complete the band and this is when David (drums) and Franky (bass) joined the band. The rest is history… Continue reading →