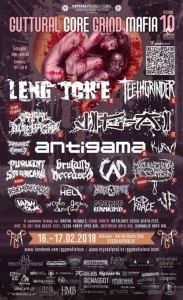 Annual goregrind bloody party for the first time for two days!
We celebrate 10 year and for this reason we want make something special! 2 days, 1 club, 19 bands from all Europe and 4 headliners!!! On GGGM #10 will play:
LENG TCH´E (Belgium), ANTIGAMA (Poland), JIG-AI (Czech Republic), TEETHGRINDER (Holland) will play full standart sets! Very special show will play CARNAL DIAFRAGMA (Czech Republic) because this band celebrate 20 years on scene! And the next great concert you can await from MELANCHOLY PESSIMISM (Czech Republic)! This death/grind legend will play first reunion concert after 6 years! Przygotuj się na specjalny zestaw z piosenkami ze wszystkich albumów! Next very special show will play with special reunion setlist goregrind gods PURULENT SPERMCANAL (Czech Republic)!
From Prag will play the great swedish death metal BRUTALLY DECEASED and brutal death CONGENITAL ANOMALIES. From Poland except for the Antigama will come great old school grind for fans Agathocles, PSYCHONEUROSIS (Poland), brutal death grind UNBORN SUFFER (Poland) and progressive death metal with The No Mads members PLANET HELL (Poland). Continue reading →