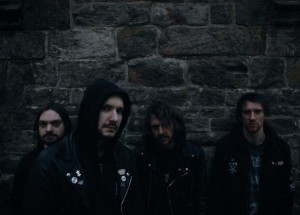 Interview: M. C. – Guitars, Vocals
Hello and welcome! I already know of your obviously existence, I'm fan of your debut album 'Wode', but… Can you tell me something about start of WODE? What's your basic motivate point for making music?
WODE began as a two-piece in late 2010, with myself (M.C.) on guitar and vocals and T.H. on drums and vocals. The only motivation we had at the time was to create raw and uncompromising black metal. Gradually the line-up has expanded and the music has become more refined, but the spirit in which we formed the band still remains.
What does black metal music mean to you? Lifestyle, phylosophy or art only?
I see black metal as an art form first and foremost, as a means of expression and way of channelling something ancient and wild. When done right it can be incredibly powerful and cathartic. Although the music itself is always the most important thing, some of black metal's philosophical leanings such as an interest in the esoteric and a desire for individualism are certainly appealing to us, while other parts of the ideology do not appeal at all. Black metal is certainly a big part of our lives but it isn't the whole picture and, to me, it is more of a personal feeling rather than something I'd equate to any kind of lifestyle. Continue reading →